Playstations are gamers' forever love! Once in, there's no out, as the gamers forget everything in the real world and enter the world of virtual reality. PS2 is one of the popularly sold gaming consoles when compared to others. It is equipped with high-end graphics and amazing gaming effects to offer the player an all in all great experience. 
The smartphone versions of these PS2 games are gaining good reviews among gamers. Emulators were created to make the Android version of PS2 games more effective. The emulators will replicate the PS2 console to enable you to game playing on Androids. Though there are a few shortcomings, these emulators will sure enrich your Android gaming. 
Make sure you look at some of the important features like graphics, speed, sound quality, paid / free, various file formats support, and controller options in the PS2 emulator before you pick one randomly. If you are a crazy Android PS2 gamer, you should surely check out some of the best Android emulators for PS2 here. 
Top 11 Best PS2 Emulators for Android in 2023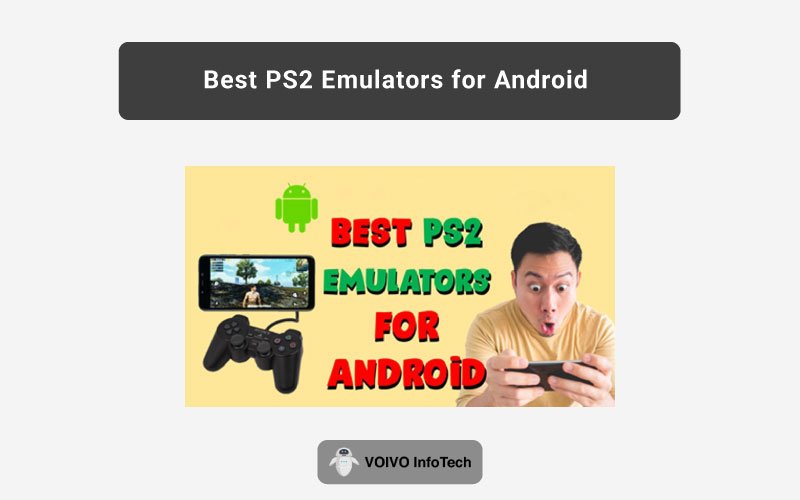 1. PPSSPP Gold – PSP emulator
PPSSPP Gold – PSP emulator is the first on our list. This is one of the best Android emulators for PS2 games. In this emulator, you will have to change the original PSP games too.ISO or.CSO files to start playing. Only after converting, the app will allow you to play. Your smartphone's capacity will influence the performance of this emulator. This is a paid application. 
Conversion of PSP to .ISO or .CSO

Best for Android PSP games

Phone capacity affects performance

Paid application
2. PPSSPP- PSP emulator
If you were unsatisfied with the first choice, as it requires payment, this emulator will impress you as it is a free version of the above one. The emulator will give you the feel of playing in an actual PSP console. It has similar to the real features of PS2 games. It has a reliable UI, but with few bugs issues. It has a smooth-running UI to deliver optimum performance for gaming.
The free version of the PPSSPP emulator

Offers real feel of PS2 games

Free Bug issues

Good UI for performance
3. Play! 
This emulator is suitable for all 128-bit games. It will offer you a great experience in playing these games. The emulator hasn't been updated since 2017. This emulator is an independent application, therefore lacking the developer's supports. Apart from Android devices, the emulator also supports Mac, Linux, and Windows. You can play various games like Grand Theft Auto San Andreas, Final Fantasy X, etc with this good working emulator. 
Independent app lacks developer supports

Good for all 128-bit games

Works with Windows, Linux, and Mac. 
4. FPse emulator
FPse is one of the best Android PS2 emulator apps. When you take smartphones, it is the fastest working PS2 emulator. It works great with almost all games. You can expect fabulous graphics in this emulator, as it uses OpenGL for functioning. It supports all PlayStation 1 games. The emulator supports Android 2.1 to Android 10 devices. You can therefore use it with any of your latest Android devices. 
Fast working

Best graphic rendering

Compatible with major games

Supports Android 2.1 to 10
5. DamonPS2 emulator
DamonPS2 emulator is another fast working emulator for Android PS2 gaming. This emulator will work great with any PS2 game of your choice. It skips the BIOS boot game. Apart from PS2, DamonPS2 also supports PSX and PSP games on your Android phones. It supports HD games and provides gamepad support. It also has Neon accelerations. 
Full HD gaming supported

Supports PSX and PSP games

Skips BIOS boot game

Supports Gamepad and 16:9 games
6. Pro PPSS2 emulator 
This emulator will offer you two versions of a particular game. Each version differs in speed, bugs, and stabilization. You can choose any version according to your comfort. The app requires the BIOS file of your game to work fine. It is advisable to make a BIOS folder in your file manager before you start playing the game. After creating the folder, go to Android and search Datacom. ptwoe. You should click this and go to Data to play your PS2 game. 
Requires BIOS file of the game

High compatibility with major Android phones

Has a tutorial before actual gaming

Offers Virtual PS2 controller
7. Rapid PSP emulator for PSP games
Rapid PSP emulator supports all PSP games on your Android phone. Apart from PSP games, it also supports PS1, PS2, PS3, and PS4 games. This is one of the best features of it. It offers PSV, PPS, POP, and PSS settings for good performance. The emulator supports connecting a separate game controller. The app works fast on all Android devices. It offers large fps in major PSP games. 
Supports connection of the game controller

Fast working and smooth performance

Offers PSV, PPS, POP, and PSS settings 

Supports PS1, PS2, PS3, and PS4 games
8. Pro PlayStation
Pro PlayStation will create the best similar version of your favourite PS2 games. It will provide beginner's instructions before you start playing the games. It supports great graphics rendering and works fast and smoothly. It has a smooth-running UI for reliable performance. It is compatible with diverse ROM. The on-screen controllers and save states feature in this emulator will make this one of the highly preferred on for PS2 games. It also offers network playing support.
Smooth UI and performances

Compatibility with ROM

On-screen controllers and save states

Good graphics rendering
9. New PS2 emulator
The New PS2 emulator supports PS1 games, PSX games, and PS One games on your Android devices. It delivers commendable graphics. The performance of the PS2 games will depend on the capacity of your Android device. The emulator supports diverse file-formats including zipping, cbn, pbp, bin, mdf, 7z, toc, cue, etc. The drawback of the emulator is its lag. Though you won't experience constant lags, lags are occurring while you play different games. 
Supports HD games

Supports various file formats

Few lags here and there

Good graphics
10. Golden PS2
Golden PS2 emulator is one of the fastest emulators for PS2 Android gaming. It is developed by Fas Emulators. You can expect similar to the original PS2 game playing in this emulator. It supports Neon Acceleration. It is highly compatible with most of the PS2 games on market. It supports HD games and 16:9 widescreen games. 
Supports HD games and widescreen games

High compatibility

Fast working

Neon acceleration
11. Free Pro PS2 emulator 2 Games for Android 2019
This is one of the fast working PS2 emulators for your Android phones. It has a guide to let you know how to get free PS2 games. It allows you to play from where you left off. It is compatible with most PS2 games. It is equipped with high graphics and sound quality. You don't need a PS2 BIOS to run games on this app. 
Speed depends on your phone capacity

Good graphics

Good audio quality

Real PS2 simulator
Recommended:
Frequently Asked Questions (FAQs) About Best PS2 Emulators in 2023
1. Which is the fastest PS2 emulator for Android phones?
Among the many listed above, FPse for Android devices is one of the fastest working PS2 emulators for Android phones. Apart from fast speed, it is also equipped with high-end graphics and large compatibility. 
2. Can Android phones naturally emulate PlayStation games?
No. Android phones require PS emulators to emulate PlayStation games. According to PS type, you can choose the perfect emulator. Some PS2 emulators support PSP and PSX games and PS1, PS2, PS3, and PS4 games too. 
3. How to increase the speed of the PS2 emulator?
The speed of the Android PS2 emulator will generally depend upon your phone's capacity. If your phone is an advanced one and runs on great RAM and speed the emulator also can run fast. The phone capacity will largely influence emulator speed and performance. 
4. Can Emulators run on Computers?
Yes. Some of the Android PS2 emulators support even computers like Linux, Mac, etc. But you can't expect this with every other Android emulator. Some are developed just for Android devices and not computers. You can check the emulator features to know about this. 
5. Which PS2 emulator supports diverse PlayStation games?
If you are looking for an emulator that supports PS1 games, PS2 games, PS3 games, and PS4 games, you can opt for a Rapid PSP emulator for PSP games. This one supports various PlayStation games. Other emulators support various PS games. You can sneak a look at the above.
PS2 emulators for Android devices will offer you a real PS2-like gaming experience. With high-end graphics and great visual control, you can expect an overall great time playing your favorite games. Downloading, installing, and using these PS2 emulators are completely legal and user-friendly. Many of these emulators support almost all PS2 games in diverse file formats. You can choose them according to your likes and preferences. While most of these are free, some require subscription and payment for usage. No more wait! Have fun with the powerful PS2 emulators available for your Android phones. 
Recommended: