When you are using Discord, it can get very frustrating if the mic does not work. However, there is nothing to worry about because it is easy to fix and does not take much time. The general complaint is that while a user is able to listen to others, others are not being able to listen to when the user is speaking. This is particularly happening with those who are using the desktop app for the Discord services because those who use the website app are not complaining of such a glitch. 
However, before you try to get your hands on trying to fix this solution, you must first check your headphones. It may so happen that your headphones are acting out, and it is not a problem with Discord at all. If you have a spare headphone at home, try to connect that to your PC and see whether it is working fine on Discord. 
There are many ways with the help of which you can fix when your mic on Discord does not work. Once you have gon through each of them on the list, you can give them a go. Within these three techniques, you will surely be able to find a cure in no time. Remember, it is important to be patient and give each one a try. 
Methods for Solving the Problem: Discord Mic Not Working
There are many methods when it comes to solving your situation when the mic on Discord stops working. All of these methods are full proof, but you need to try all of them if the other fails. Here are the methods on brief:
Update your voice settings on Discord.

Update the audio driver itself. 

Rerun Discord as an administrator after quitting Discord. 

Log out of Discord

Selecting the Appropriate Input Device
Method 1: Update your voice settings on Discord.
One way you can solve this glitch is by resetting the settings for voice on Discord. This is one of the most full-proof solutions out there with a stellar success rate. If this issue is happening basically on your Discord desktop app, this will solve your problem in no time at all. If this glitch has taken place, especially after you have replaced your old headset with a new one, this option is the best one out there. Here is how you can do this:
On the home page of Discord, click on the "Settings" option.
First click on "Voice & Video," then press on "Reset Voice Settings."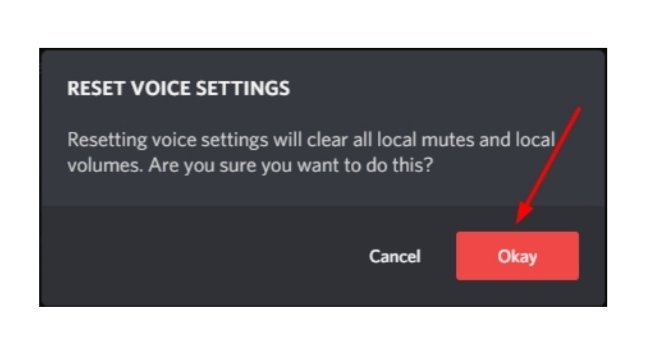 Check if the audio on Discord is working or not by reconnecting your microphone and sending a voice message. 
Method 2: Update the audio driver itself. 
Your Microphone on discord may stop working because of a wrong, missing, or old audio file. This can easily be fixed by updating your audio driver. 
There are two main ways you can get the correct audio driver on your computer. You can do either automatically or manually.
When you want to update your driver manually, you will have to go to the manufacturer's website. Once there, search for your audio card and find out which one is the most recent audio driver that has been published by the company. You have to very sure that you are selecting the driver that is compatible with the variant you are using on your windows system. 
When you want to get this done automatically, the process is simpler. You can opt for this option if you are not particularly tech-savvy or don't have the time or patience to manually carry out the operation. You can get this done automatically by using Driver Easy. With the help of Driver Easy, you will be able to get your updated audio driver in no time. It not only recognizes your system but also finds the driver that is ideal for your audiobook card as well as your Variants on your windows system. The download and installation will happen automatically. Here are the steps to be followed:
Download Driver Easy and install it on your device. 

Open Driver Easy and choose the option "Scan Now." This step will grant permission to Driver Easy, after which it will scan your device for faulty and outmoded drivers. 
You will then see a flagged audio driver, and click on the "Update" button next to it. This will help. You can automatically download and install the correct driver in place of the faulty one. 
To make it even easier, you can choose on the "Update All" option that will help you to download and install the correct version of each and every faulty driver that may exist on your device. While this requires a paid version of Driver Easy, the free version could perform the previous step. If you do not want to pay extra, you will simply have to make a few more steps. However, even with the free version, you will be able to mitigate your problem just well.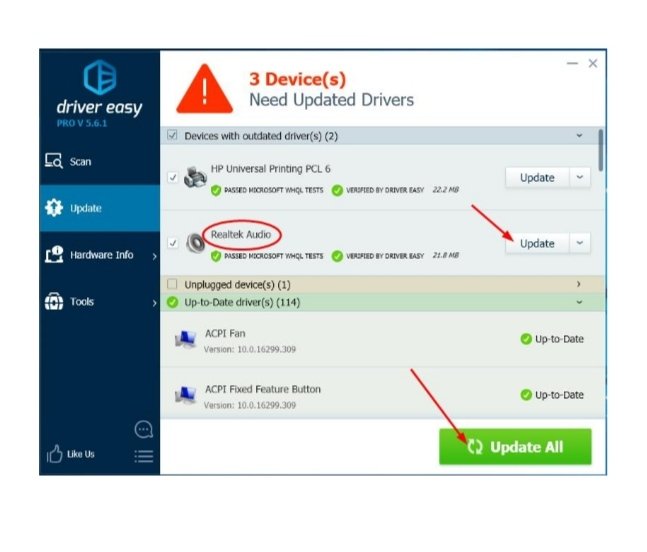 Now, all you have to do is go to Discord and try to send an audio message and check whether it is working fine. 
Method 3: Rerun Discord as an administrator after quitting Discord. 
Discord uses a UDP to help. You communicate and share information with your friends. It may so happen that it does not have all the permissions and privileges required to transmit your audio or voice message across the internet to your friends. One way to deal with the solution is to run Discord As an administrator, which will provide it with the necessary privileges. Here are the steps you need to follow:
Right-click on the icon that says "Discord" on your Windows Taskbar. If you find that this icon is hidden, click on "Show hidden icons" You will be able to find it. Right-click on it, and you will be able to press on "Quit Discord." 
Now, on your desktop, find the Discord Shortcut icon and right-click on it. You will now be able to press on the option "Run as Administrator."
You will now be prompted by User Account Control. Now you simply have to press on "Yes."

Now verify whether this has worked by sending a voice message on Discord. 
Method 4: Log out of Discord
If you want to solve this problem rather quickly, it would be best to log off your account and log in again. This generally does the trick and helps you Restore communication. However, this is not a permanent fix and can only help.you for the time being. The other methods on this list are more viable choices for a long term solution. However, for this quick fix, these steps are what you need to follow: 
On the bottom left corner, you will find a User Setting icon, simply tap on that if you are using the Desktop version of Discord.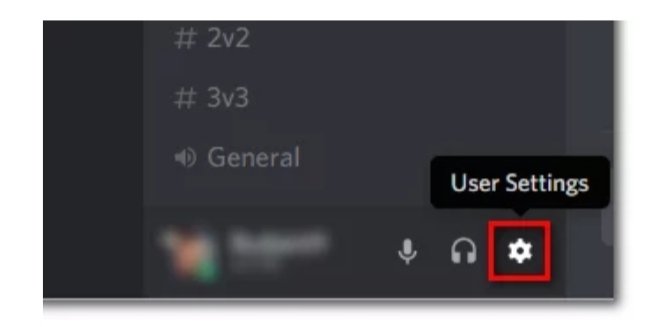 Press on the Log Out option to confirm your exit. 
Now, simply scroll down and click on the "Log Out" option and then follow it up by clicking on the logout button to confirm your activities. You may have to keep doing this for some time. It may take a little time and pressing for the application to register this move. 

Once you have logged out, now it's time to log in again. Simply enter your credentials and log into the app like you normally do. 

Check now if your friends can hear your voice messages. 
Method 5: Changing the Automatic Input Sensitivity
If you have accidentally disabled the Automatic Input Sensitivity on your desktop, it can have a problem recognizing your voice on the microphone. If you have made any changes to the voice settings before, you might have unticked this box, which is leading to this trouble. When you do this, the manual Sensitive bar on the settings generally sends the slider to your left, which essentially disables the microphone, which leads to all this problem. This is how you can fix this problem:
On your Discord window, you will be able to find a User Setting icon on the bottom left corner, and then click on it. 
Under the App Settings option, you will be able to find "Voice and Video." Click on it. 
Now simply scroll down, and you will be able to find "Input Sensitivity" as an option. You will simply have to toggle on the option that says, "Automatically Determine input sensitivity." Noe talks on your headphone and observes if the bar below the lights is a green color. If you see that the light is solid green, you can move on to the next step. 
Now disable the toggle and see if the Manuka slider is in a position that is somewhere in the middle of the bar. Observe if the manual bar is pulsating when you are talking on the headphone. If this is happening, then your problem is solved. 

Method 6: Selecting the Appropriate Input Device
If none of those mentioned above methods have yet been fruitful, you need to see if the device is using the proper microphone at all in order to establish communication. When it comes to input devices, Discord may make some wrong choices. When you keep the settings here, Default usually chooses rather weird choices that are not truly applicable. This generally happens more with gaming computers or laptops that already have a built-in microphone. The problem is when you keep this setting as Default, and Discord is more likely to choose the internal microphone as the input device than the one on your headset. The built-in microphone generally does not have the necessary drivers, hence it cannot help your cause. This is how you can get this done:
On the Discord window, go to the bottom left corner and choose on the "User Setting" option. 

Under the App Settings section, you must click on the "Voice and Video" option. 

Under Input Device, you will be able to find a drop-down menu where you will get an option to choose a microphone from your headset. 
Now, you just need to make sure that the Input volume slider is on a maximum.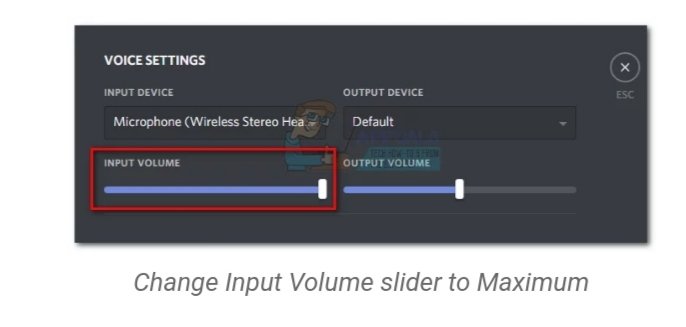 Method 7: Disable the Exclusive Windows Mode
When using a Windows system, some applications can exclusively take control of the audio device driver. When you allow them to do so, it may pose a problem for Discord. If such exclusive functions are allowed, when you use some headphones, the microphone when using Discord may turn off or quiet down completely. This is how you can disable this function:
On the bottom right corner, you will find a sound/volume option. Click on it. Following that, click on "Recording Devices." 
Now click on the microphone on your headset and select "Properties." 
Now you will find an advanced tab. Here deselect all the options that come under the Exclusive mode. You must then click on Apply in order to confirm the change in settings. 
Now, you will simply have to reboot your system. 

Go to discord and find if your microphone is working now. 
Some options work for some individuals, while others may have to go for the other solutions. There is no way of telling which solution will work for you. You will have to figure out what is wrong with your device and then work your way forward. Once you are able to troubleshoot, you will be able to use your microphone on Discord without any problem. Do not feel disheartened if one solution does not work out for you. Once you try out all the solutions, one of them is sure to work. 
Related post: