Developed by BitTorrent, Inc, uTorrent is an ad-supported, free file sharing platform which hundreds of people have used in the past. The platform offers great functionality that's even comparable to larger bit torrent clients who have restricted resources, even though users get access to different versions of the Windows system. However, uTorrent is full of annoying advertisements and bloatware items which often affect user experience. 
Because if this, a lot of users often ask how can they completely remove uTorrent from their device. Sometimes, they face trouble trying to uninstall the program. It appears that uTorrent tries to prevent people from uninstalling it and sometimes people can't even locate uTorrent in the list of programs from the control panel. In this post we have discussed why is uninstalling uTorrent necessary and how can people uninstalled it, if they face any issue. 
Why does the problem of insufficient access to uninstall torrents arise?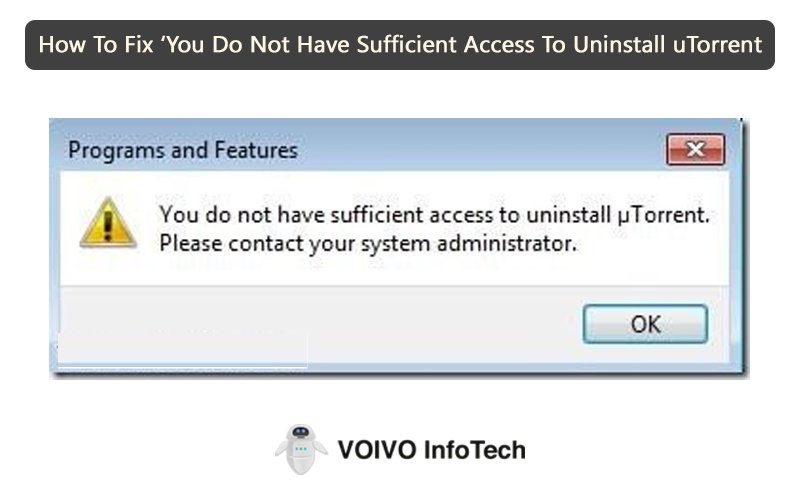 Since Windows vista has been released, Microsoft has introduced an additional feature to make the operating system more secure and safe. The new security feature added to the system is called UAC, meaning User Account Control. This feature is designed to prevent dangerous actions to be executed by third parties like a virus, malware, or any other non-authorized user. 
Because of this new feature users can't take actions like installing any software or uninstalling them, deleting files, etc. This feature provides limited accessibility to the already installed files and programs present in your system. User Account Control is no doubt an excellent thought and a great security feature but what's annoying and frustrating is that it blocks installation of other applications or uninstallation even for the administrator. 
So, if your system too has the UAC protocol implemented, you would definitely face the " you do not have sufficiently access to uninstall" issue, every time you try to uninstall or install a new program in your device. The only way to uninstall uTorrent is by disabling the UAC protocol in your device. To know the steps in detail continue to read below. 
How To Fix 'You Do Not Have Sufficient Access To Uninstall uTorrent'
The problem with uninstalling uTorrent has become widespread. With time, their complaints started to arise and it has been found that it's because of the UAC protocol. Every time you try to uninstall uTorrent or any other program from your device, you would receive an error message reading" you do not have sufficient access to uninstall uTorrent". To help people out, we have enlisted the steps following which you can uninstall the program without any hassle. 
There are different ways in which you can solve the issue. Let's go through each of them in details. 
Method 1 
Turn off the UAC 
The first and least complicated way is to turn off the UAC protocol. By now you must be knowing that this issue occurs due to the implementation of the UAC protocol. So, if you are to fix the error, you have to follow the following steps. 
Press Windows key + S to open the windows search. 

On the search menu, type in Change User Account Control settings. Click on the first result that appears on-screen. 

Now, set the slider to 'Never Notify'.
That's all. You have successfully deactivated the UAC protocol and you wouldn't face any further issues while you try to uninstall uTorrent or any other program. However, you are advised to restart your device and try to uninstall uTorrent. 
Method 2 
Run  Uninstaller In Administrator Mode
If you have already followed the first procedure, you don't have to follow the below mentioned ones. But, if you aren't willing to deactivate the UAC protocol, you can choose to follow this procedure. There are people who run the uninstaller as an administrator and have got successful l results. For doing that, 
Visit the program folder 

Now, visit uninstaller.exe 

Once found, right-click on the uninstall executable

Now visit, "run as administrator"

This would uninstall the selected program. 
Method 3 
Update & Uninstall uTorrent On Windows 10
If you aren't willing to perform any of the above two methods, you can opt for the their method. In this method, you have to update the uTorrent program to its latest version. Once it's updated, uninstall it. If you already have the updated version installed, try installing the beta version of the program then. Now try to uninstall it. Lots of users have opted for this method and have been able to uninstall uTorrent successfully. 
People can also try some third-party app uninstallers to remove unwanted and stubborn programs like uTorrent from their device. Though disabling UAC protocol is expected to solve the issue, sometimes the issue might still persist. In such cases, you have to take the help of any third-party uninstaller program available on the internet. 
So, these are some of the effective ways to fix the issue of insufficient access. We have given a detailed list of the methods, along with the reason causing it for a proper understanding of our readers. If you have any further doubts, research or ask people in the comment section below. 
FAQs 
1. What will happen to my torrent files if I uninstall uTorrent?
When you uninstall you torrent, you can still access the downloaded files. However, you still have to restart it. If they are simply magnet links, they would get deleted. 
2. Why is it important to uninstall programs?
Uninstalling unnecessary programs is important because these programs occupy your device's space. Thus by removing them from your device, you can enhance your device's speed and functioning.