When you are in a relationship, a lot of things are put at stake. You are committing to someone's life long and you are also putting your time, efforts, and your trust into someone without second guessing. However, there could arise a few instances wherein you might feel like the partner you have entrusted your life with might not be as trusting as you thought.
If your girlfriend is acting suspicious, hiding things from you, or being extremely touchy about certain subjects, it is a clear giveaway that they aren't in the best of their mindset. Ideally, in such cases, we'd recommend that you directly ask your partner what's wrong.
But, if you are not getting clear answers and some things seem to fall out of place, we'd recommend that you step around and work on other ways in which you can access your girlfriend's text messages without them knowing about it.
Since doing so without having access to their phone can be a bit of a pain, we have managed to narrow down a few ways you can work around the issue and make the most out of the situation.
Recommended: Check Boyfriend's Text Messages for Free on iPhone
Is it Possible to Spy on a Girlfriend's Text without Them Knowing?
When it comes to reading your girlfriend's text without having access to their phone, the process is all thanks to the imminent technological advancements that we have experienced over time.
What wasn't even possible back in the day is now easy to work with the streamlined technology. But, what is even more fascinating is the introduction of varying phone monitoring apps.
These are available online and users can download and install this software into their phones to get direct access to their girlfriend's phone. However, the best part of it is the fact that everything can be done in stealth mode. This means that your girlfriend won't have an idea that you have likely hacked into their phone.
Recommended: Scarlet iOS – How to Download the App for Free?
What are some of the top Phone Monitoring Applications you can Use to Spy on your Girlfriend?
If you are suspicious that your girlfriend is stepping out on you or not being truthful, there are several ways you can work around the issue. Ideally, the easiest fix is to look around for the various phone monitoring applications that are available online.
Most of them either come with a free trial or a 30-60 days refund policy, which allows you to test out the app, assess the efficacy of the features, and then go ahead and use it in the long term. 
Amidst all the available spying and phone monitoring apps in the market, we have managed to sort out the top ones that work.
1. ClickFree
Touted as the best text message monitoring application, ClickFree works like a dream. It is one of the most ideal phone hacking solutions, which you can use in the long run without any worry or complications. 
Besides the array of features that can relentlessly track incoming and outgoing messages, what stands out in this app is the user-friendly layout. You won't have to worry about doing your work on the side. Instead, what you can do is install the app into any Android or iOS device and call it a day. That's how simple the tool is to use.
The optimal compatibility of this app is another factor that makes it stand out from the rest of its competitors. You get access to over 35 spying features in the app, which is quite promising as well. Also, since it works in stealth mode, no one will get an idea that their phone is being tapped into. So, you can read your girlfriend's text messages remotely without them knowing about it.
2. Spyic
Although quite an underrated option, Spyic is a worthy mention in the list if your sole focus is on finding good quality and reliable phone tracking tool that can look around and spy on your girlfriend's phone without them knowing.
The app has been in the market for quite some time now, which means that you can avail all the new-age functionalities of the app without any compromise or hassle. This is one of the staple reasons why this app stands out amidst the remainder of similar apps.
It is compatible with both Android and iOS devices, which is another reason why it has gained the kind of popularity that it has. You can conveniently install the app and tap into your girlfriend's phone and check what kind of text messages they are sending to other people. Also, the app doesn't require rooting or jailbreaking, which means that you can stealthily access all the data without anyone else knowing about it.
3. Spyier
Next up on the list of apps that you can use for spying on your girlfriend's mobile phone is Spyier. It is a leading phone monitoring application that doesn't require you to have any technical skills to be able to use them. All you have to do is download and install the app and you are good to go.
It is a 100% safe-to-use app, not just for you but also for the target phone you are spying on. They don't record or store any of the data, which means that your data will remain private and secure throughout the app's usage. Even when you decide to unsubscribe from the app, it should work just as effortlessly without any hassle.
There is an online dashboard for the app where you can keep a track of all the relevant information and data that you have acquired from your girlfriend's phone. The only downside is that the app doesn't record keystrokes and phone logs, so you won't have substantial evidence to confront your girlfriend with. But, it does track the incoming and outgoing messages, which is a benefit in itself.
Recommended: Best Fm Transmitter Apps For Android And IOS
4. Minspy
If you are looking to try out a phone monitoring app before paying for the hefty subscription fee, we'd recommend looking into Minspy. It is quite a new platform, which means that you can avail of the services for quite a lucrative price point. But, that's not the only catch.
What makes this particular application stand out from the rest is its diverse range of features. It is no doubt one of the most renowned and well-acclaimed phone monitoring apps in the market that lives up to the hype and expectations.
Since it works remotely and in stealth mode, you won't have to worry about your girlfriend knowing that you are hacking into their phone to read the text messages, which is a relief in itself. Also, it can track online social media activity, if you think that's going to get you some substantial proof of the situation.
5. Spyine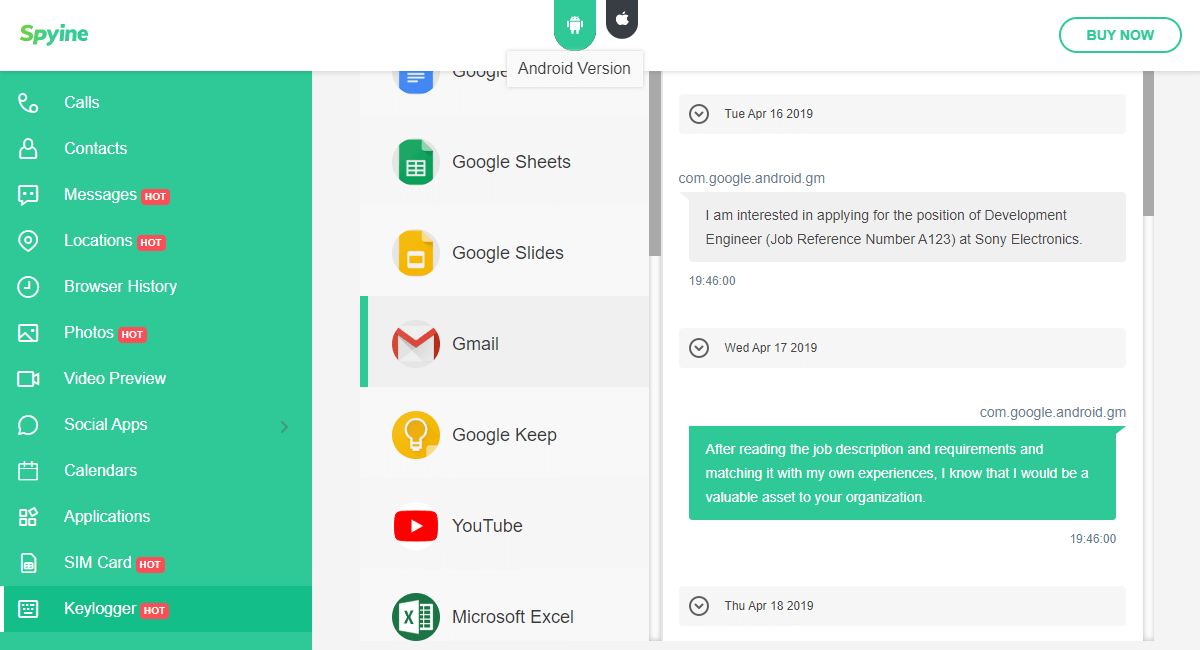 Spyine is quite a new addition to the existing list of phone monitoring applications on the internet. However, the refined features and functionalities of this app have transformed its usage and made it one of the leading options that you can take a look into.
Not only will it help you keep a track of the incoming and outgoing text messages, but the app also keeps an eye out on the social media activity of the app, which is a bonus too. Also, if you are worried that your girlfriend is cheating on you via social media platforms, it can provide you direct access to those apps too.
It is compatible with both Android and iOS phones and doesn't require rooting or jailbreaking, which is a plus point. So, even a non-tech person can easily install the app and get started on it without any hassle. Also, if you are confused about how to use the app, there are detailed instructions available on the app's dashboard, which further makes using the app a lot easier and streamlined.
6. Cocospy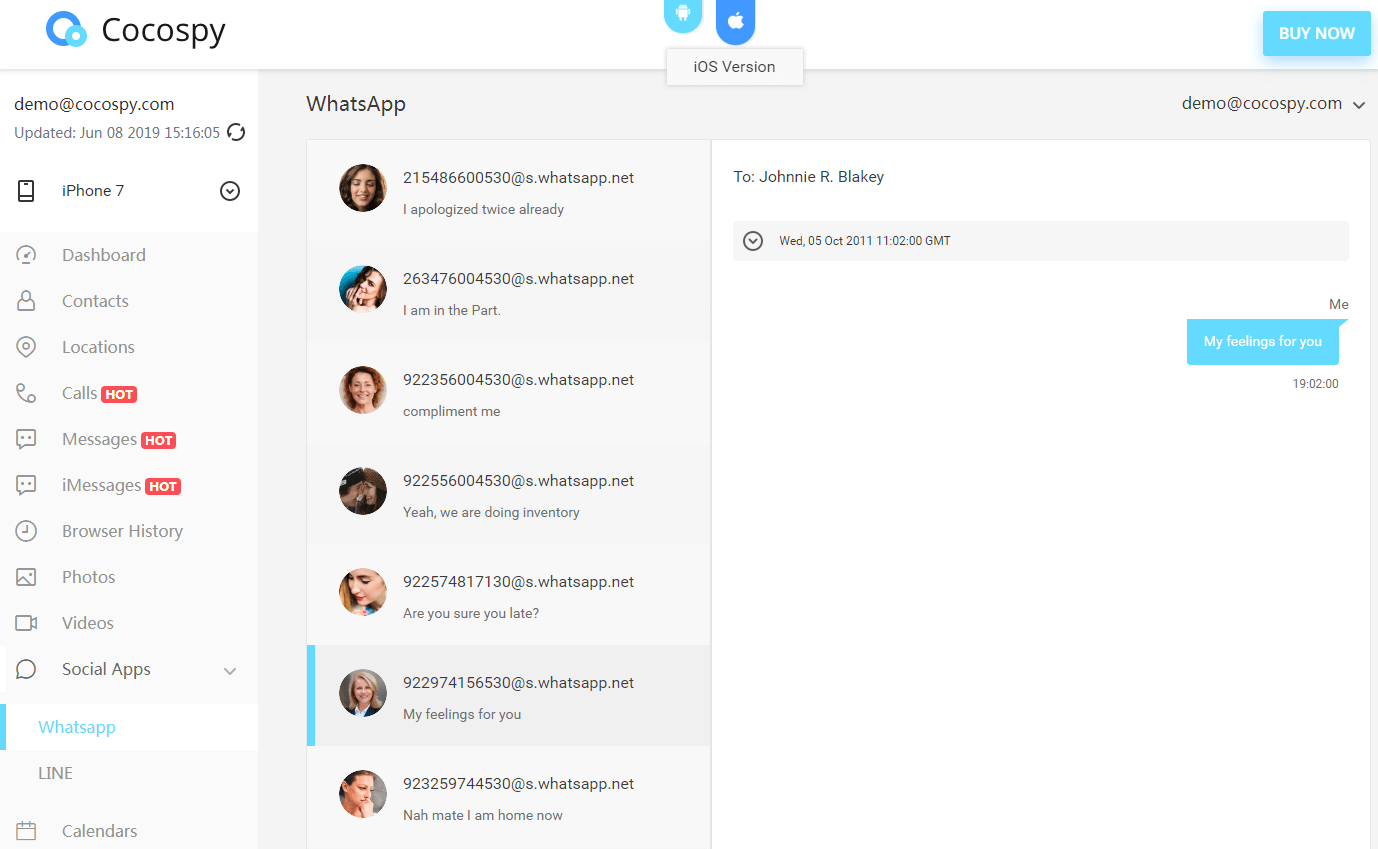 Although primarily developed for parental control, Cocospy can help you keep an eye out on your girlfriend too, especially if you think that they are cheating on you. It comes with a variety of features, including text message monitoring, social media activity monitoring, phone log, screenshots, keystroke monitoring, etc.
So, you get access to a holistic hacking system under one platform, which is a bonus you won't regret splurging out on. It is compatible with iPhones and Androids, so it doesn't matter what the target phone is, you can use it for just about any smartphone on this planet.
It functions without rooting and jailbreaking in an iPhone but you might have to root and jailbreak in case of an Android phone, which is a bummer. However, the steps of installation are fairly easy, so you shouldn't have a hard time getting around it.
Recommended: Gacha Cute iOS: Can I Download For iPhone for Free?
Conclusion
Checking on your girlfriend's text messages is now easy and accessible, provided that you are doing the right thing. We will highly recommend looking through all the available phone monitoring applications before you narrow down your option to just one. Also, cross-check with all the available subscription plans and such before you avail of any one of the services.
Recommended: 10 Best Adults-Only Emoji Apps for Android & iOS