Drivers are one of the most crucial pieces of software on your computer and drivers problems will frequently result in computer freezes, crashes, glitches, or decreased performance. Sadly, manually updating drivers may be extremely time-consuming because you have to identify the malfunctioning component, its model, and the existing driver, and then conduct an online search for the most recent version.
Windows Update typically includes driver updates, however it doesn't cover all manufacturers and hardware parts. As a result, it may miss several updates, which would prevent the component from functioning.
An automatic driver updater can update all of your device's hardware drivers and maintain them updated for the efficient operation of your PC if you don't want to deal with the inconvenience.
These programs ensure that you receive the most recent driver or even outdated hardware drivers that are not frequently found thanks to their large library of millions of drivers.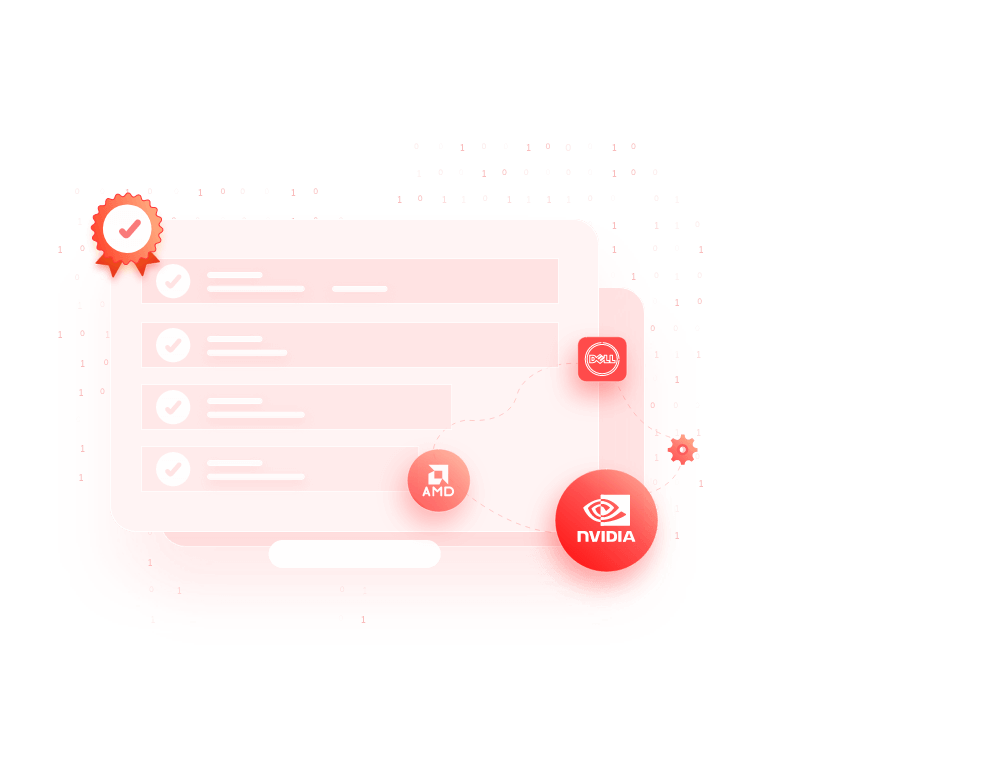 The best automatic driver update programs are listed below to keep your drivers updated and solve all of your driver-related issues. So continue to read and find the answers.
Discover the Best Driver Updater Tools for 2023
1. Driver Booster 
Driver Booster is very powerful tool to update your hardware drivers and provides extra tools to enhance your gaming experience and solve related issues. Its free version offers a database of over 6 million WHQL-certified drivers and is enough for scanning and updating essential drivers. However, you'll need to manually update each out-of-date driver by clicking on it.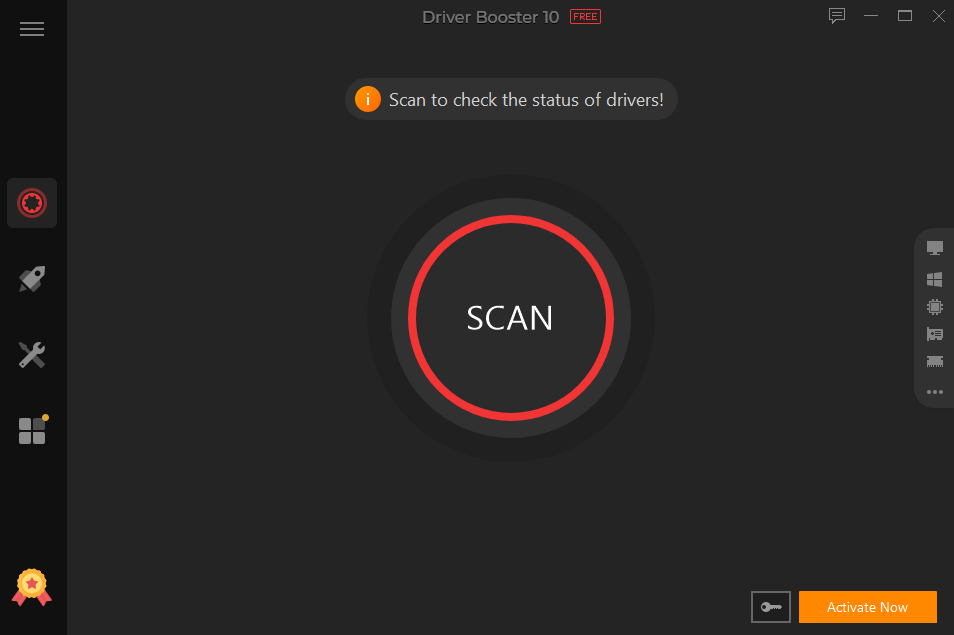 The Pro version will automatically update all the out-of-date drivers and install essential gaming components, including Microsoft Visual C++, that were missing from your PC. Before updating, you may also make a backup of your driver files, and a handy Roll back feature that lets you quickly restore any changes.
For individuals who want to personalize the process of installing new drivers on their computers, this driver updater is a wonderful choice. Driver Booster provides a helpful, comparative summary of up-to-date and current drivers. With the help of the built-in search function, which enables you to locate a specific driver, you may further tailor your update. You may simply roll back and delete outdated drivers as well as read information about them, such as the publisher name, current driver version, most recent driver version, and published date. Simply uncheck a certain driver's box if you don't want to update it.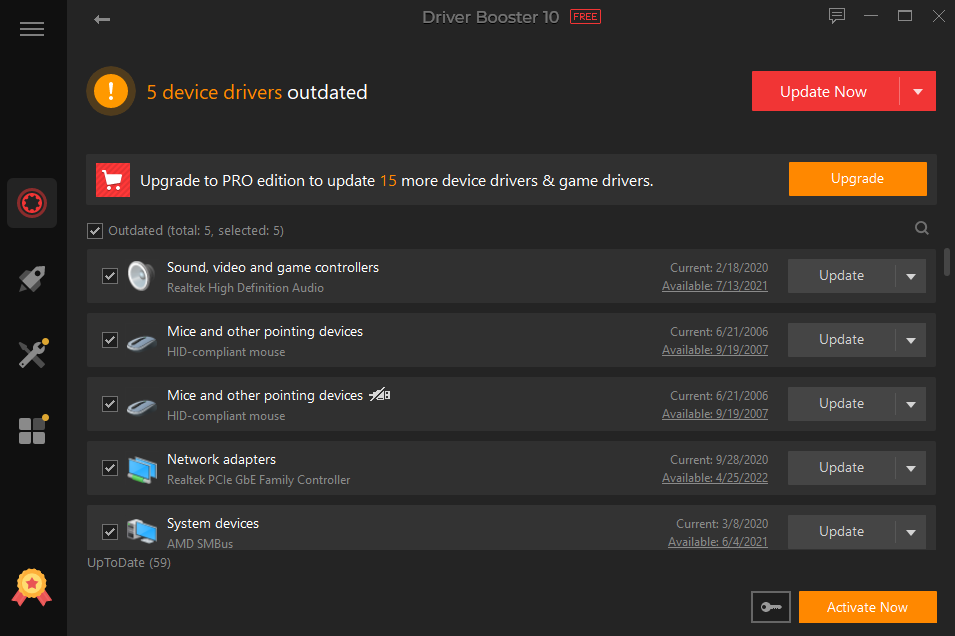 Driver Booster has a useful tool kit that includes an automatic sound fixer, network fixer, resolution fixer, driver problems fixer, and a tool to delete data from unplugged devices that you no longer use. You may even configure it to update drivers offline, which is useful for updating network card drivers or drivers for numerous devices.
2. DriverMax
DriverMax is a great option for a free driver updater if you can do it with just two updates per day. You must get the paid edition of driver update software if you need a little bit more. DriverMax has an excellent user interface, good automation, and a variety of pricing and subscription plans.
DriverMax can meet your needs if you're seeking for a reliable free driver updater tool. Its scan can find out a sizable number of out-of-date drivers, and it also enables you to download numerous important aspects if you're missing them.
In addition to updating drivers, it can download tools that help with the operation of games and apps, such as Java, Microsoft.NET Framework, and Microsoft Visual C++ Runtime. Besides,  DriverMax free version can backup and restore drivers, which is only accessible in paid versions of other competing tools. 
Overall, DriverMax is a good tool for updating drivers safely and adding new components for free if you need them and it makes things a lot easier to maintain hardware driver healthy.
3. AVG Driver Updater
Due to its emphasis on quality, safety, and comprehensive coverage, AVG Driver Updater is included in our best driver updater tools. You can be confident you're using a high-quality product since its official staff checks drivers for safety before making the driver upgrades.
Your computer can display the best graphics and provide the best sound with the help of AVG's automatic driver update tool. Additionally, it can reduce the possibility of connectivity problems, stalling, or crashes on your PC.
It's a very easy driver updater that completes the task without any difficulty. Start by scanning every device driver you have and comparing the results to the database. Then, automatically download and install the out-of-date drivers.
In the settings, you may choose to receive an alert when a new driver update is available for any of your hardware components. Before scanning, you can also make a backup of your current driver settings to guarantee that any improper driver installations can be undone.
4. Driver Easy
Driver Easy is another feature-rich driver updater with many options to make things simpler. Our  PC was rapidly scanned by Driver Easy, which found a large number of out-of-date drivers. Although its free edition is fairly effective at identifying all out-of-date drivers, it will cause you must manually update them.
You can update all drivers at once in the paid version, and you can backup and restore drivers if an issue arises. In addition, you may scan the drivers offline and view all hardware information directly inside the Driver Easy interface.
A full system restore point can be made, an internet proxy can be managed, and automatic scans can be scheduled. These extra features are all accessible in the free edition as well.
5. DriverPack
The best driver updater solution for beginners is DriverPack, which is totally free and can automatically handle all driver updating needs without user interference. Choose the regular mode to automatically scan all drivers or expert mode to selectively install driver updates. When you choose to update drivers, it will automatically search and update all drivers.
If you want complete control, select the Open expert mode button at the bottom. This will allow you to choose which drivers to install and skip manually. In the expert mode, the tool will display every driver that needs to be updated and, if more than one is available, will suggest alternatives.
It's interesting to note that the DriverPack also provides a download for an offline version that you can use to update drivers. Therefore, you can use their entire driver database anywhere and download it for free.
FAQs
1. Why I need to update drivers?
Drivers enable your computer to function and prevent issues with hardware failure. The smallest software components, known as drivers, guide hardware and devices on how to interact with the operating system. Your computer won't function without drivers.
2. What drivers should I update frequently?
The key drivers that your computer needs every day should be updated frequently. These include of network drivers, Windows drivers, audio drivers, and graphics drivers. Your computer's crucial operations are controlled by these driver types, which also ensure that the visual, audio, and internet access features operate as intended.
3. Which driver updater is the best?
The best driver updater is one that is developed and maintained by a reputable provider, works automatically, and works. Driver Booster is a reliable product for driver updates during a number of excellent free driver updater solutions available.
It's simple to use, gets the job done correctly the first time, and all of the drivers are WHQL certified to ensure any diver update issues are prevented. With the help of this free tool, updating drivers on Windows may be handled easily, resulting in fewer crashes.