We all know the fact that the 21st century is a technology-driven age and smart phones are inevitable in one's life. Have you ever struggled to edit notes in your smartphone notepad? If you are a student or a business owner, you might have multiple documents to manage. In such a scenario document editing apps will make your work easy and deliver the content in no time. 
Are you someone who is looking for the best document editing apps for your smart phone? Do not worry; this article will list some of the best document editing apps for your mobile phones. The apps that are mentioned below in this article are easy and free to use to edit and create a document on your device. 
Best Document Editing Apps for Android and iOS in 2022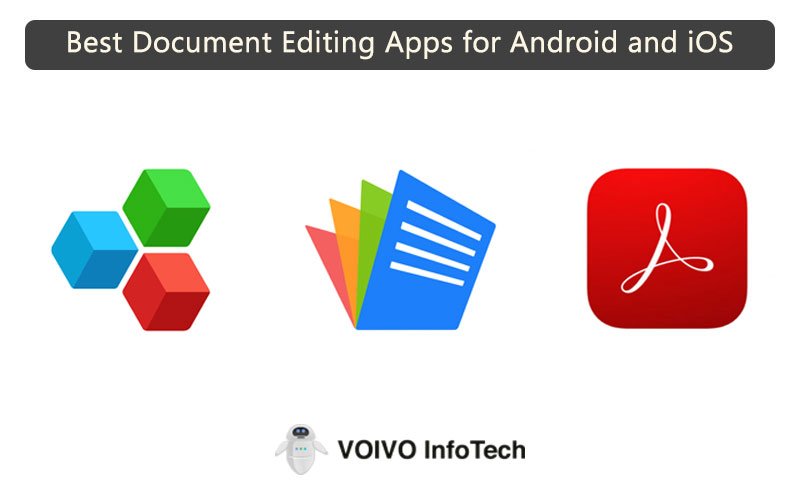 1. Office suite  
Office uses a well-known app for editing and creating documents which helps you to view PowerPoint, Excel, and Word documents on your mobile phone. This app can support various Microsoft file formats Google such as .log, .rft, .text, etc. Office suite helps you to even edit graphic contents apart from the texts in no time. The app provides you with different types of templates that can be useful for college assignments and office work. 
Features
Operates advanced PDF

Provides many templates

A free graphic editor is available 
2. Polaris Office
Polaris Office is a free Office App and the latest app which is available for iOS and Android mobile phone users. It is very easy to download this app as it helps you to edit any kind of document and PDF in no time on your mobile device. Polaris office app helps you to enhance and improve your creative writing skills with the input provided by this app. Spreadsheet apps help you to edit and draw your ideas easily on the documents.
Features
PDF reader and converter

Different Handwriting inputs

Free office app
3. Adobe Acrobat Reader
Adobe acrobat reader is a trusted app and one of the best save to create and view files like PDF on your IOS and Android device. Adobe acrobat reader helps you to open any kind of PDF file quickly from a website, email, or any other App that supports it. Users with the help of this app can edit any kind of PDF file and can be used as PDF editable file. It helps you to zoom in and zoom out the document easily without any hassle. 
Features
Edit any type of PDF file

Files can be accessed website or email

Support other apps in editing documents
4. Pages
The page is an app that can be used in both IOS and Android mobile devices as a word processor which will allow the user to create documents resumes and amazing reports in a short duration. The appropriate words the users with wonderful backgrounds and themes which is inbuilt in this app. Pages app will allow you to use them in any of your documents, be it for personal or official purposes. Page app can be very beneficial, as it helps you to edit and create unlimited documents on your mobile phone. The above-mentioned tasks can be performed through this app for free.
Features
Edits documents for free

Provides many themes and backgrounds

Inserts time and date on your documents
5. Evernote
Evernote is a wonderful editing app for editing your documents and this app has unique features. The app allows the user to easily create edit a right and capture the ideas by just using your mobile phone. To this, the app also provides an option to scan your documents and also edit audio video text of your scanned document. Evernote app is very useful, especially for professionals who are into journalism. Evernote app has various options and functions and can be easily used to sync your data across any phone computer or tablet.
Features
Document scanner

Video and audio editing

Edit scanned document
6. PandaDoc
PandaDoc is a well-known and popular document editing app that is mainly developed who is an Android user. This app can be downloaded for free and it is easy to use especially if you have an Android mobile phone. The users can install this app in no time on the smartphones what is the best app to enable Microsoft Office suites under a single umbrella. This app enables a person to easily get access to spreadsheets presentations Microsoft Word Reed diffuser and converter help of PandaDoc. The app comes with unique features in formatting and other functions.
Features
Edits fonts

Image formatting

PDF reader and converter
7. TextPic
TextPic is an amazing app for IOS and Android users and allows a person to easily create any kind of document pictures and texts in it. The app is very popular and it is known for the easy insertion of any image or picture to the document that can be easily saved on your mobile device. TextPic app also allows the user to share the edited documents with their friends and followers through social media, Zoom, Skype, and other alternative apps. 
TextPic app comes with well-coordinated and designed backgrounds, themes that are available easily on your mobile device. The users can also write their ideas and thoughts which will, in turn, help the app development according to the users' requirements. Users with the help of this app can modify style colour and text font on their mobile devices.
Features
Modification of text font and style

Easy insertion of the image to the document 

Creates document with pictures

Allows the user to share the edited document on social media platforms.
8. Google Keep
Google Keep is a well-known app that is developed by Google Corporation which allows you to quickly capture the idea that is there in your mind. Google Keep provides you the option to edit, create and share your notes anywhere, anytime on your mobile device. The app is known for its unique features which are to organize your pointers with different styles, font, colours, and much more. 
Before you start using this app you must ensure that you have an account with Google so that you will be able to gain more out of it. This type of document editor not only helps official work but also your work such as making notes of the groceries other products that you are planning on buying.
Features
Captious ideas easily from your mind

Organizes your using styles and fonts

Set reminder
9. Docs To Go
Docs To Go is a good document editing app that allows you to edit create view any find document on your iOS and Android mobile phones. The app allows you to edit files anytime anywhere free of cost on your mobile phones. You can even edit your document while travelling on public transport and this is handy to the user. Docs To Go give the user an option to sync their data with the cloud the user will have access to the document even on their PC and Tablet. File format in this app helps you to edit documents and PDF.
Features
Creates and edits your file

Syncs your data the cloud

Easy accessibility of the PDF and documents
10. Smart Office
Smart Office is an amazing app which allows a user to create view any type of document at their fingertips. The app is fully featured and designed especially for mobile phone users with various kinds of operations on the documents. The app is best known for its document editing feature which allows the user to save print create and present easily the document with different qualities from their smartphone devices. Smart Office App allows you to do various kinds of editing operations such as cut paste redo undo options that help you to edit your document and files.
Features
Edit your document in different quality

Edit a document that can be saved mobile phone

Create an edits MS Office document
The above-mentioned document editing apps help edit documents and also come along with different features like inserting an image, including graphics, scanning of the documents, and much more. There are plenty of online document editing websites that can also be used in editing your documents.
FAQ's
1. What are the main apps used by the Youtubers' to edit their contents?
There are plenty of apps available online for the Youtubers to edit their content but some of the common ones are Final Cut Pro, iMovie, and Adobe Premiere CC.
2. Is it possible to edit a document on iPhone?
It is possible to edit Microsoft Word documents on your iPhone but make sure that your iPhone has an office 365 account to edit your documents.
3. How to put a digital signature on your smartphone device?
The users can insert their digital signature on any of the Microsoft documents by installing any of the document editing apps which will help sign the document with ease.