Hey Reader, hope you all are well, Nowadays everyone is using a smartphone even every smartphone users have apps like WhatsApp, Facebook, etc, But today I am going to share Top five best apps of 2021 for android users so without going more into intro lets inside into the best apps
TOP 5 APPS IN 2021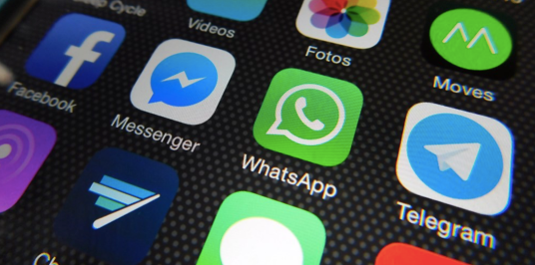 1. Telegram-
it was developed by brothers Nikolai and Pavel durov. the most downloaded app worldwide for January 2021 with more than 63 million downloads. it provides a lot of services such as end-to-end encryption, video calling, files sharing, and many more. it was launched on 14 August 2013 for iOS and in October 2013 for Android. you can use it to send messages to people when you are connected to wifi or mobile data. it has two unique features such as secret chats and lock chats. it has the best privacy feature than any other apps.
2. Fmwhatsapp-
This application is developed by Fouad Mokdad. It is a whatsapp MOD which provides you to chat with your contacts. There is a possibility to use two Whatsapp account in a single phone. it have different visual themes over 4000 which is created by the community to modify the interface. it is totally safe to use as there is no news about its malware problems. you can pin up 100 chats at Fmwhatsapp. You can even make selective peoples to call you. But privacy is not guaranteed the developer can see all you're sent and received messages. and speed is also slow if you will compare to original whatsapp.
3. Netflix-
it is an American content platform. Netflix is a streaming service that offers a wide range of shows such as TV shows, award-winning shows, web series, movies, and many more on an internet-connected device while offline you can watch downloads. you can sign in to multiple compatible devices. Once you are subscribed you can enjoy unlimited documentaries, shows, and web series. Netflix is not "NETFLIX ORIGINAL" with bonus content and deleted scenes which may you find in-home releases such as DVD, Blu-ray. Even the i-tune subscribers can have special features. it is subscribed by huge number of people/teenagers.
4. Facebook-
it was founded by Zuckerberg along with his classmates and students too at Harvard college also an American technology-based on Menlo park. it is a social networking site ease to connect with your friends and family members online.To use it you first need to sign in which means to create a profile. you can make new friends online. Even you can share your live location, find friends with their phone numbers and can react too. Timeline where you can view the users' profile information and posted photos/videos shared. It is used by millions of peoples.
5. Snapchat-
it is a popular social media messaging app. it lets people exchange photos and videos which we call as snaps that are just disappeared after viewing.  You can say Snapchat as a new and different camera as it provides a variety of lenses and filters. it was released on 8 July 2011. it can be bad for children's under the age of 18 to be use cause snaps are frequently deleted after viewing so the parents won't be able to see what their child is doing with the application. This app makes most of their money by snap-ads.
Conclusion
I hope you like this amazing post and also you got some best apps of 2021, if you like this post share this post as much as you can keep visiting this site for the latest updates