As humans, we have the habit of misplacing things, especially small devices like remotes, mobile phones, etc. It feels annoying when you can't find the things you want to use.
By chance, if you have misplaced or lost your Roku remote, you are not the only one doing it. Many other people are living the same experience as you. Maybe this is the reason the Roku remote has a physical finder button on the device.
If you can't find your remote even after searching various corners of your home, we understand your pain. In this post, we will tell you how to find your Roku remote without wasting hours.
Finding A Roku Remote
Roku Voice remote and Roku Enhanced remote have a built-in speaker. This means, both the remotes have support for the "lost remote finder" feature. By pressing the remote finder button, you can search for your lost remote.
In case, your device lacks a physical finder button, you can use the Roku app to find your misplaced remote. But this feature has some limitations. It will work only if your remote is within the wireless network range. This feature will also not work if your remote batteries are dead or damaged.
Guide To Find A Lost Roku Remote
As we mentioned before, there are more than one ways to find a lost Roku remote. But some of these methods have some limitations. We will discuss that in detail in the lines below.
Method 1: Using The Lost Remote Finder Button
Most Roku remotes have a remote finder button. This makes it easier to find the remote, in case, you have misplaced it somewhere.
All you have to do is find the button on the remote and press it. This will make your remote make a sound. Keep pressing the button until you find your remote.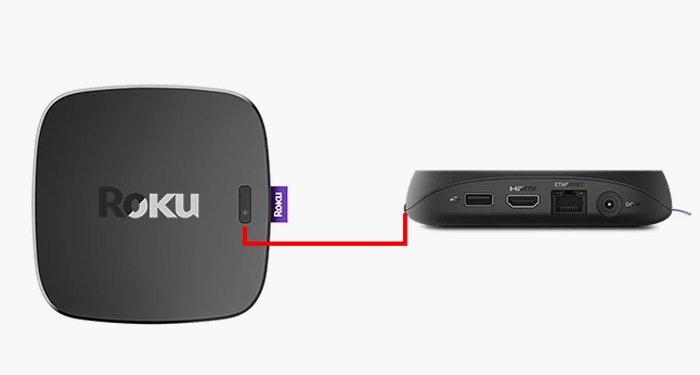 This is probably the easiest way to locate your Roku remote. Just press the button, listen to the sound, and find your remote. It doesn't require you to do more than that.
Method 2: Use Roku App
This method is useful for those who don't have a remote finder button on their Roku remote. The Roku app acts as a virtual remote that helps you to find your remote as long as it is within the Wi-Fi range. Also, your remote batteries should be working.
To use this method, you will have to first connect your smartphone and Roku device to the same wireless network. For better understanding, we have detailed the steps below.
Start by downloading and installing the Roku app on your smartphone
Once the app is installed, open it.

Now sign into your Roku account using your login credentials.

Connect your Roku device by tapping on it.

Access the Navigation Bar and select Devices.
Locate your Roku device that is paired with your lost remote.

Click on the Three-dot menu icon.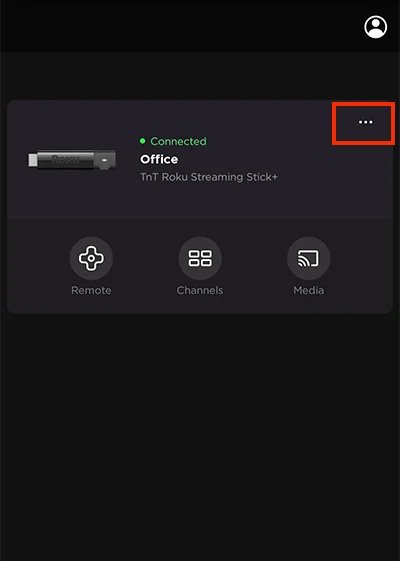 Select the option Ping Remote.
By following these steps, you should be able to find your lost Roku remote.
Method 3: Use Hands-Free Voice Command
There's another feature called hands-free voice command. However, this option is not available on all Roku devices. But if you have this feature, you can use it to search for your lost remote.
To use this method, switch to the hands-free mode and voice command it to find the remote. As soon as the signal is received by the remote, it will make a sound.
When using the voice command feature, make sure that you speak loud and clear. If you can't find the remote on the first attempt, repeat the command a few times until you can hear the beeping sound.
If your Roku device doesn't have the voice command feature, you can use the Voice button on the Roku app. It will give the same benefit as the voice command feature.
Method 4: Buy A Universal Remote
If you still can't find your Roku remote, you should probably get a universal remote. These remotes are supported by all the latest Roku devices. 
Once you connect the universal remote to your Roku device, you can set it up to use with your Roku TV.
It is quite easy to link a universal remote with your Roku TV. You just have to make sure that the remote is compatible with your device. Get the model number and name of the remote and see if it's supported by Roku. You will find this information on Roku's page.
To model a number of the remote is generally located on the back or front of the remote. Or, you can check the inside of the battery compartment. 
Once you find the necessary details, acquire the code for your specific remote model on the official Roku page. After that, follow the instructions to add the universal remote control to your Roku device. 
For this, you will have to put the remote into the setup mode, and then enter the code on Roku's page.
Why do I need a Roku remote?
Roku remote control has more functions than you think. You need it to control your Roku devices. You can connect the Roku remote to your Roku device over a wireless network and control the functions. From streaming movies to switching channels, a Roku remote can control all these functions remotely.
The remote is powered by two batteries. If your Roku remote stops working, you should replace the batteries. As long as the batteries are good, the remote will work just fine.
Besides the physical remote control, you can also use your smartphone as a Roku remote. This is possible only after installing the Roku app on your phone.
Final Words
Losing your Roku remote feels frustrating. But you can solve your problem by following the methods mentioned in this post. To be on the safer side, we would suggest you get a universal remote control. This way even if you lose your original Roku remote, you will still have the universal remote to work with.