You must have heard about Adobe Flash Player. But do you know what it is? Or what you need it for? In this post, we will tell you what a Flash Player is and how to unblock it.
You need a Flash Player to play Flash-based content, such as graphics and videos when you visit a website. You can enable it from the Settings menu in your browser. Flash Player is compatible with all major web browsers including Google Chrome, Internet Explorer, Microsoft Edge, Mozilla Firefox, and Safari.
If you don't have Adobe Flash Player on your device, you will have to first download it and then use it to see Flash-based content on the internet. 
If for some reason your Flash Player is disabled or blocked, you won't be able to play Flash content. But no worries, we are here to help you out. We have included all the details you need to know to unblock Flash Player.
What is a Flash Player?
Since many of you are not sure about what Adobe Flash Player is let us first get to know a little about the software.
Flash Player is available with different names based on the browser you are using. But the main point is that it is free software that helps you to host several different media files that wouldn't play otherwise.
When used on web browsers, it is available in the form of a plug in. The Flash Player in your browser would then interact with the one embedded in web pages. This would allow you to do things like interact or play games with certain types of content.
How to unblock Adobe Flash Player?
There are different ways to unblock Adobe Flash Player. The steps vary depending on the browser you are using. To help you out, we have included browser-specific steps. So without wasting any time, let's get into the details.
1. Unblocking Flash Player in Google Chrome
When you access Flash content pages on Google Chrome, you will get to see a jigsaw piece icon. It indicates that the page contains Flash content.
If you receive a notification alert in your Chrome browser saying that Adobe content was blocked, click the jigsaw piece icon and then press the Allow button.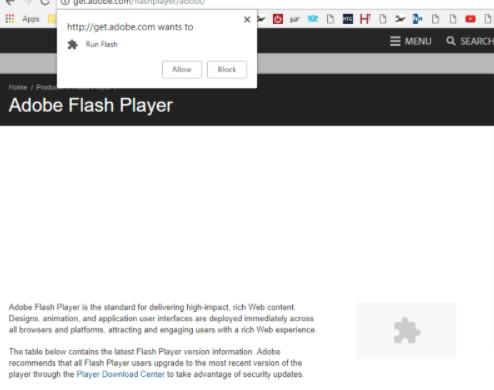 If the Allow button cannot be pressed, you will have to configure the Flash settings of your Chrome browser.
First, open the browser's menu by choosing the Customize Google Chrome button.

Now click on Settings to open the tab as shown in the picture below.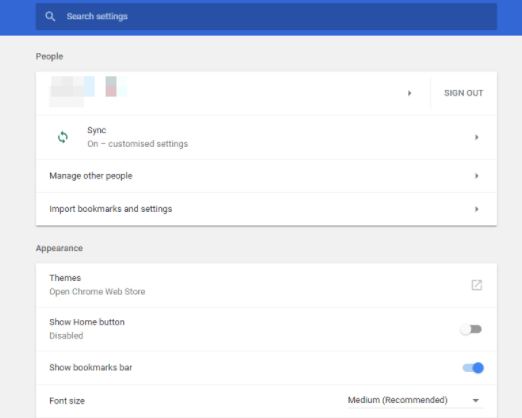 Scroll to the bottom of the page and select the option Advanced.

Now press Contents settings and choose Flash to see the available options.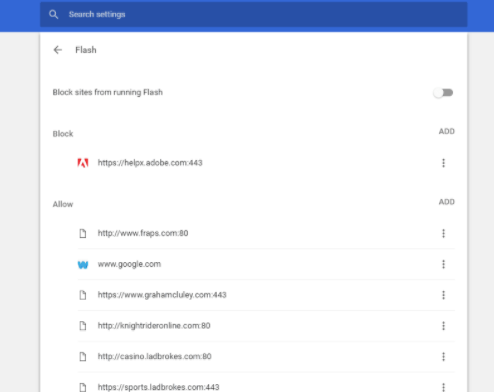 Switch Block sites from running Flash

 

to

 

Ask first (recommended) to unblock Adobe Flash content.

You can even add websites to the Allow list, so that Adobe Flash always run on those websites. For this, you need to click the

 

Add button

,

enter the website URL and press the Add

 

button again.
2. Unblocking Flash Player on Firefox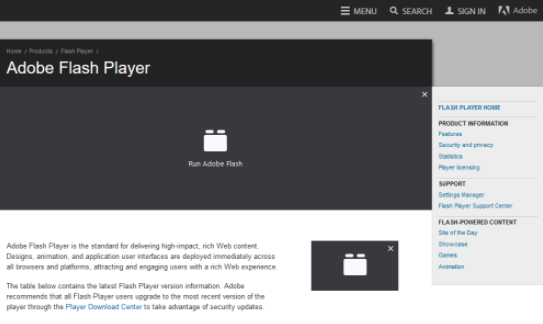 Mozilla Firefox changed its default Flash settings to Ask to Activate just a few years back. This is why the browser shows a Flash multimedia icon when you open a page.
By clicking on that icon and choosing Allow you can unblock the multimedia content. However, if the Flash content is blocked in your Firefox browser, you can enable it by following these simple steps:
Go to the Open menu button. You can locate it at the top right corner of the Firefox's window.

Click the option Add-ons to open the required tab.
Now you need to select the option Plug-ins. This will open the plug-in list as shown in the picture below.
Go to the Flash drop-down menu and select the option Always Activate. That's it, you are done!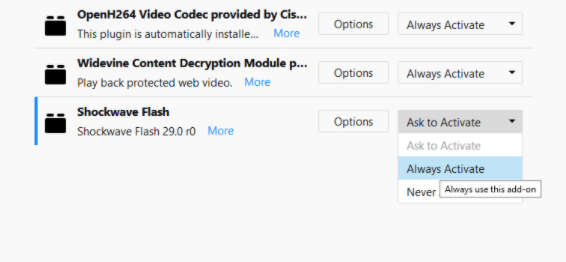 3. Unblocking Flash Player On Internet Explorer
Enabling Flash Player on Internet Explorer takes just a few steps. Although Internet Explorer is an old browser, it has Flash Player support. The steps you need to follow are:
At first, launch your Internet Explorer browser.

Go to the upper right corner and click on the Tools button.

You will be shown a list of options. Select Manage Add-ons.
A new dialogue box will show up on the screen. Go to the option Toolbars and Extensions and click on it.

Now scroll down the list to locate the option Shockwave Flash Object and enable it. 

Once you are done with the above steps, your browser is ready to play all types of Adobe Flash Player content.
4. Unblocking Flash Player On Microsoft Edge
For Microsoft Edge users they can follow these steps to unblock Flash Player on their browser.
Open your Microsoft Edge browser and go to the icon that resembles three dots. You can find it on the upper right corner of the screen.

Choose Settings from the available options.

Next click advanced settings from the options that show.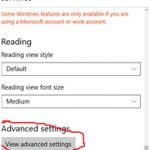 If your Adobe Flash Player option is Off, you need to turn it On by checking the box as shown in the snapshot below.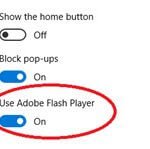 5. Unblocking Flash Player On Opera
Opera is yet another popular web browser out there. If you are unable to open Flash content from Opera, you will have to unblock Flash Player in your browser. This can be done by following the steps below.
The first thing you need to do is open your Opera browser and go to Menu. 

Click on Menu and you will be show a drop down list. Select the option More Tools and then choose the option Show Developer Tools.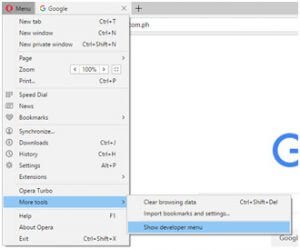 Click on the Menu button again and go to the Developer Tools option. This will make a new window pop out and click Plug-ins.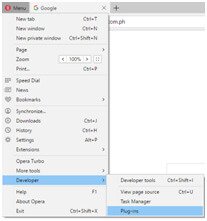 Now locate the Adobe Flash Player plugin and unblock it as shown in the picture below.
That's all you have to do to enable Flash Player in your Opera browser.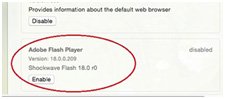 6. Unblocking Flash Player On Safari
Safari web browser is meant for Mac users. If you are a Mac owner and want to enable Flash Player on your Safari browser, follow these steps.
At first, open the Safari web browser on your device.

Now find the gear icon and click on it to access the drop down menu.

Choose Preferences from the available list of options.
Select the Security Tab and you will get to see a dialogue box. Click the option Manage Website Settings.

Now select Adobe Flash Player and enable the Allow option. Once all the steps are done, you are good to go.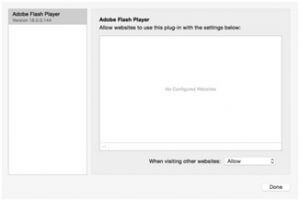 Why is Adobe Flash Player needed?
Adobe Flash Player has always been very important as many websites and content doesn't function properly without it. Even though there are many alternatives available out there, Adobe Flash Player is by far the best and most reliable one.
There are many reasons why you need a Flash Player. It is the most popular multimedia platform in the market. This makes it the default software that is used by many developers, especially when for video games.
When using Flash Player, you have more options on the types of sources and media that you host. This helps you expand your content choices to offer your visitors.
Another thing about Flash Player is that it is completely free. Despite that you don't have to worry about security problems as it gets updated automatically. Last but not the least; it is also quite easy to set up. This saves you a lot of time and effort.
To sum it up, you need Flash Player to view certain types of content on websites. This mostly includes graphics, videos, and games.
FAQs
How to Adobe Flash Player gets blocked

?
Modern web browsers are designed to block Flash content regardless of the Flash Player version you have. This started happening after HTML5 was set as the new standard due to security risks involved.
What do you need Adobe Flash Player for?
Adobe Flash Player is free software that is used to stream and view videos, audios and other multimedia content. It also supports Rich Internet Applications (RIA) on a PC or mobile device. Originally, Flash Player is the product of Macromedia, but it is now developed and distributed by Adobe Systems Inc.
Is Adobe Flash Player free?
Yes, Adobe Flash Player is free to download. This means you don't have to pay any charges to download the software. It also updates itself automatically without requiring you to pay for it.
Conclusion
We have covered the steps to unblock Flash Player for all the popular web browsers out there. Most you are using any of the above-mentioned browsers. In that case, you can follow the steps and unblock or enable Adobe Flash Player. By doing so, you can see Flash content on websites without any issues. Hopefully, you found this article helpful.