With the best live video call options at your disposal, you can easily communicate with anyone you want, regardless of their location.
What is a video call?
A video call can be described as a phone call using an internet connection. It allows you to communicate with people and see them on the screen while talking.
Video calls are considered better than traditional voice calls. When your video calls a person, you can see him/her live. But this is not possible in voice calls.
Video calling feels more personal as you can see the person's live. This makes the conversation more meaningful.
Video chat comes in handy in various situations. For example, people who live away from their family and cannot visit them often can communicate over video calling.
Video calls are also used for meeting and collaboration purposes. You can conduct important meetings and discussions with your colleagues over video calling. Not just that, but you can also include multiple participants to create video conferencing.
Video calling is one of the best things that have happened to humans. It has made communication better and more efficient.
Where do you use video calls?
We use live video call for both personal and work purposes. Let us give you a few examples of video calling or when to use video calling.
Let's say, there's a special occasion going on in your family. But due to work reasons, you cannot attend the event in person. In that case, you can use video calls to be a part of the event virtually. This is any day a better option than completely missing out on the event.
With video calling, you never have to miss or skip a special moment with your friends and family. No matter, where you are, video calling can connect you with your family in a second.
From small companies to big companies to international giants, they all depend on video calling or video conferences to conduct important meetings. It allows them to communicate with clients and other businesses over the internet.
Let's say, your company has a meeting with an international company. Instead of flying abroad, you can simply organize the meeting over a live video call online. This will save both time and money.
The biggest advantage of live video calls is that they can connect you with people anytime, anywhere. You can make video calls to any corner of the world without sending additional money. All you need is a reliable video calling platform and a stable internet connection.
What benefits of a video call?
Video calls have a crucial element in our lives. Whether it is at home or the office, we use video calls almost every day. It has plenty of benefits that have got people hooked on it for life.
The main benefits of video calling are:
This is probably the most obvious benefit of all. While video calling a person, you can see them live on your screen. It gives you the ability to see the person face-to-face, even if they are not physically present with you.
Video calls help establish a trustable relationship. This is mostly because you can see who you are talking to.
In voice calls, there's always a risk of missing out on information as it is more difficult to grasp. But in video calls, you can read the facial clues, body movements, and head gestures of the person. This promotes better communication between two people or groups of people.
You can solve half of your problems and confusion by just video-calling a person. But the same is not possible in audio calls.
How to choose the best video call API & SDK to make a video call?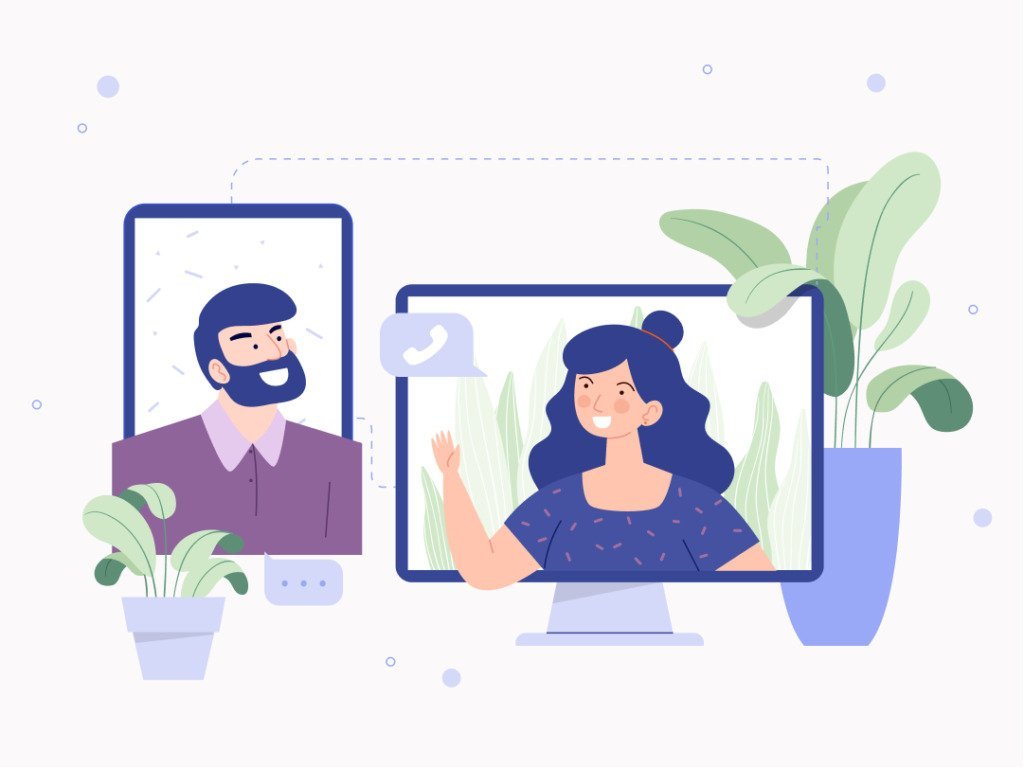 Whether you choose a free video call API or a paid one, you should always consider the quality of service it provides. One of the best video call APIs is ZEGOCLOUD. It is known to offer real-time video cloud service to clients.
ZEGOCLOUD's communication APIs allows you to embed video chat experiences within existing apps. It takes just a few lines of coding to get the job done. After that, you can add more features to enhance the overall experience.
With the help of ZEGOCLOUD video chat, you can create communication features that are needed by your users to interact and share anytime, anywhere.
ZEGOCLOUD's social tools enable you to create group and one-on-one live audio rooms, video chats, and social live streaming in your apps. This feature can be used to connect with others for fun.
It helps you to enhance user engagement with customized video calling experiences. Connect people around the world with high-quality video calls and access a variety of add-ons for more effective communication.
ZEGOCLOUD Features
The ZEGOCLOUD SDK provides an array of features that makes it more convenient to use. Here let's take a look at the features:
It enables you to transmit high-quality live videos up to 4K resolution for an enhanced visual experience.
It can accommodate up to 50 video-calling participants at once, even in poor network conditions.
It provides real-time engagement with ultra-low latency. The average latency is 300ms, and in best cases, it is 79ms.
It supports up to 15,000+ devices across all major platforms and operating systems.
ZEGOCLOUD Price
ZEGOCLOUD offers a free trial plan for new clients. It gives you the first 10,000 minutes for free every month, which means you pay only for what you use.
For high-quality video calls it has two plans:
$3.99/ 1000 minutes for HD video
$12.99/1000 minutes for full HD video
If you are not sure of the usage calculation, you can contact their customer support service and get the details based on specific scenarios.