Nowadays, proportioned avatars can be quite boring. Why not try these outlandishly large-faced avatars?
Make Your Own Chibi Character!
What is the definition of a Chibi?
Chibi is a cartoonish style avatar that originated in Japan. Chibi is typically two to four heads big.  You may see them as collectibles for highly regarded manga or anime series. They are also helpful in establishing a positive and adorable vibe due to their large, unusual big face shapes.
Where can you make Chibi characters for free?
1. Picrew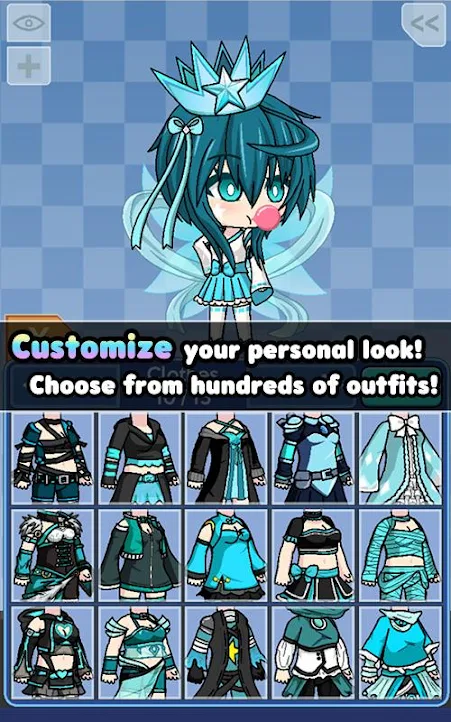 You may create chibis' on Picrew for free. You may download the app on your android phone or iPhone, and you may also opt to use your laptop or PC. In addition, it's easy to use with no adverts that will bother your user experience. Picrew doesn't only make chibi but also figure, superhero, anime, cartoon, and AI avatars for you and your loved ones. Moreover, there are 2000 presets to choose from, or you create your own presets and share them with the community.
2. Avatar Maker: Anime Chibi 2
Avatar Maker is a freeware for creating chibi avatars that you can download from Google Play Store. The app gives you a chibi persona that you can customize with toolkits provided on Avatar Maker. You can select a chibi head and torso with whatever you prefer. After that, you can customize the eye shape, lips,  nose, ears, hairstyles,  outfits, jewelry, wings, and much more. If you want to go back and replace the features, select the "clear" icon. You can also leave avatars as a draft, delete avatars, or save avatars on the platform or your device, photo album.
3. Chibi Avatar Maker
Chibi Avatar Maker allows you to create your own chibi persona for free. And you can customize them however you want. The app includes toolkits for a broad array of hairdos, clothing items, face shapes, eye shapes, lips, nose, and many more. The soundtrack can be playing in the background while you're making the chibi avatar. You can mute the sound by clicking the three-dots on the upper right of the screen. Upload the image of your created chibi avatar to your photo album, and make it your home screen or lock screen wallpaper, or both.
4. Pastel Chibi Maker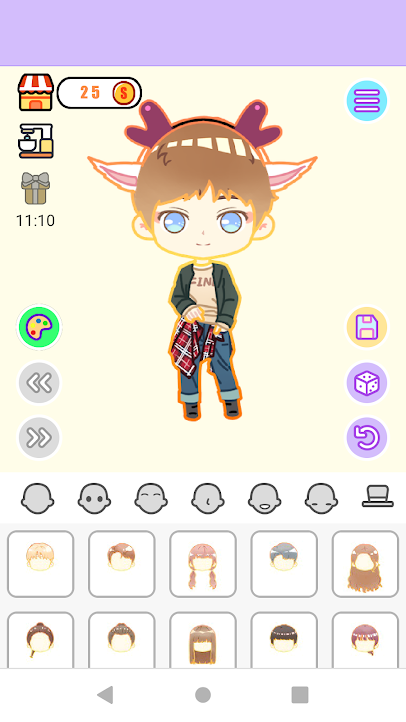 Pastel Chibi Maker is an app that allows you to make pastel-colored chibi avatars. You can create a captivating chibi character. Try various hairdos, eye shapes, wings, and other accessories. By using the app, you can make a chibi character that looks like a dog, cat, or whatever animal you wish to make.  You can make your chibi character lie down, jump, sit comfortably, stand, and so on, and you can also use different backdrops. And save the chibi by clicking on the three dots in the upper right corner and storing it in the platform and your device photo album.
5. D-Style Character Maker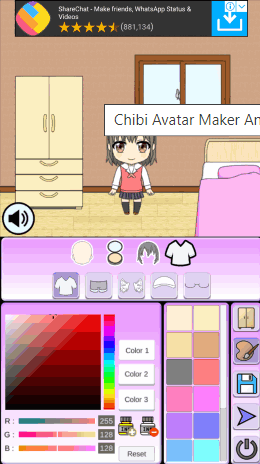 D-Style Character Maker is yet another free and easy-to-use chibi avatar maker for Android. On the lower right of the platform, there are some features you will see. The first is a cabinet where you would dress up and accessorize your chibi character. The app will randomly pick a chibi character for you. And you can start changing the facial structure, emotion, fashion accessories, and so on of the avatar. You can also enhance the beauty by clicking on the screen. You could save your chibi character on your phone once it's finished.
6. Chibi Doll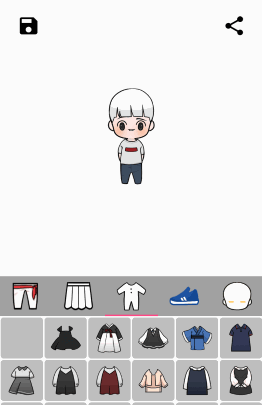 Another best choice for making a chibi avatar is to use a chibi doll. This mobile application allows you to create chibi dolls. You can select the skin complexion, eye shape, eyebrow, cheeks, lip, clothes, shoes, wings, and other features. The app makes it easy to add makeup to dolls' faces. You can make a plethora of extremely cute dolls in this manner. It will probably be the best app for all of the teeny weeny baby gals out there.
7. Cute Chibi Avatar Maker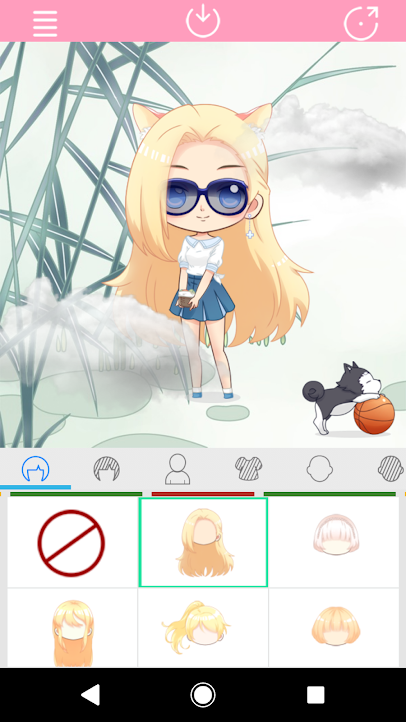 Cute Chibi Avatar Maker is a free app similar to the other apps mentioned earlier. You can make a lovely chibi character by using features such as skin, eyebrows, cheeks, and so on. You can pick the color of the character's clothes, hair, and jewelry, whatever you want it to be. Aside from this one, you could even combine a pet avatar and a chibi character. You can also customize the appearance and have your avatar hang out anywhere, including in the clouds. You can store it both on your device or within the platform. You can also use the chibi character as your device's screensaver straight from the app.