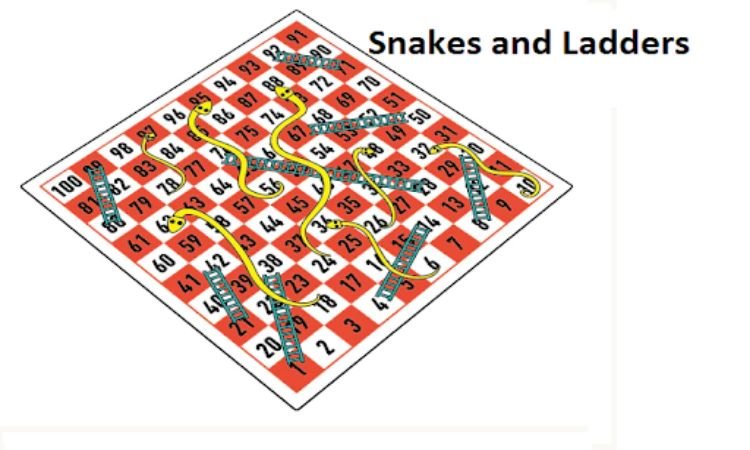 Snakes and ladders online are still recognized as a classic today. It takes place on a board with numbered, gridded squares and involves two or more players.
Some snakes and ladders connect various squares all across the board. Players move around the board by rolling dice. A player moves up the board one square if they land on a ladder but back down the board one square if they land on a snake. Getting to the last square is the goal of the game.
An Educational Game:
So, why do you think that this game has educational qualities? Here are some reasons for you that undoubtedly convince you how this simple and age-old game helps us in every step of life. Let's have a look at it:
Identify your Goals:
Most of us struggle to identify our life's purpose till its end because it is the hardest thing for many individuals to do. Living without a clear goal is similar to playing the game of Snakes and Ladders without understanding that the goal is to reach 100.
Keep the End in Mind While you Work:
Once you determine your life's purpose, make sure all of your everyday activities are on par with it. Focus on the ultimate objective to ensure your daily actions are in a similar line with the aim.
Never Give Up: Look ahead with renewed vigor and battle your way back to the top. Live life precisely like this. Never In life, never quit.
Have Patience: Last but not least, maintain your composure while carrying the proper action and avoid being sidetracked, irritated, or demoralized.
How Playing Online is Different From Playing Offline:
Children will enjoy rolling the dice and moving up the board in a race against the computer. Playing snakes and ladders game offline and online is quite similar. Like board games, you can play Snakes & Ladders online. There are some differences between Snakes & Ladders played online and offline. You can play Snakes & Ladders offline with up to four people. Only two players are allowed to play Snakes & Ladders online. However, one benefit of playing Snakes & Ladders online is that you can play against the computer. To play with you, another player is not necessary. You can also take pleasure in being alone.
You can have the snake and ladder game downloaded with a group, which is an additional alternative. Multiple other players are playing this game at the same time as you are.
Family Entertainers: Snakes and ladders is a popular family game enjoyed by people of all ages, including young children and the elderly. To have fun and get the most enjoyment out of the game, children or kids play it with their parents, grandparents, and friends of the same age group. The game set is perfect for group play for children of all ages, including boys, girls, and parents. Children and parents can play the game together for several hours. While playing this game offline or online, youngsters and children can enjoy and amuse themselves while traveling with their families. It is a famous global classic game that aims to teach kids to discern between good and evil while they are having fun.
Why Do People Choose PlayerzPot?
Simple Game: Snakes and Ladders is one of the simplest games ever played. To make gameplay in Snakes and Ladders simple, all one needs to do is grasp a handful of the game's fundamentals.
Accessibility: Snakes and ladders are widely accessible both offline and online. Because they are not expensive to purchase, Snakes and Ladders boards are becoming popular. However, since you can download snakes and ladders game it for free, kids nowadays prefer to play Snakes and Ladders games online.
No Professional Experience: No prior professional experience is necessary to comprehend and play the game of Snakes and Ladders. From young children to senior citizens, anyone can play these games.
Win Cash Prizes: Playing Snakes and Ladders games online isn't just for fun and leisure; it's also a way to make or earn money. If the user is willing to confront the opposition, they can also play a free snake and ladder game download.
The Game at Your Convenience:
People can now play the game smoothly. One needs to be available and in a conducive environment to play an offline game of Snakes and Ladders. You can still play the game with your friend online if you are traveling and he is elsewhere.
Conclusion: The Final Takeaways
Children who play snakes and ladders begin to recognize the numbers they hear and discuss daily by connecting the written symbol with the meaning of the value they mentally comprehend. Children also acquire counting techniques that serve as the foundation for addition and subtraction, such as mentally adding or subtracting one from several by moving their fingers to the upcoming number.