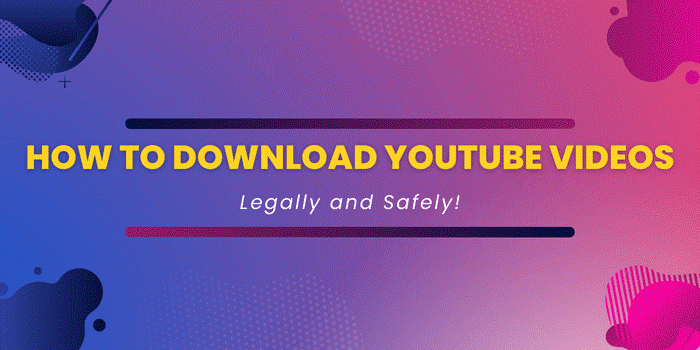 YouTube is one such video streaming platform in the world that hosts an immense amount of video content on the platform.
Watching YouTube videos on the platform itself online is easier for everyone who can access an internet connection.
But for viewing the videos offline, you need to download the YouTube videos.
Of course, there are software and web-based platforms to download YouTube videos. But, when you use unauthorized download platforms, you may face some issues playing your videos offline and also, you cannot use it for reusing or re-sharing purposes.
In order to avoid legal troubles while downloading YouTube videos, and keep the video copy safely on your devices, it is advisable to use legal web-based platforms or even software when it comes to downloading YouTube videos for offline watching purposes.
In this case, you must be aware of how to download YouTube videos safely and legally. In this blog post, I will explain one authentic way to download YouTube videos legally.
The process is highly safe for any device. Keep reading. Let's get started.
VidMeta – Best YouTube Downloader
VidMeta is one of the best web-based online YouTube downloaders and right now in the market, the platform is one of the best options available for downloading Youtube videos legally and safely. Let's discuss more about VidMeta in the post.
Why is VidMeta Best over Other YouTube Online Downloaders?
VidMeta has a lot of features compared with other similar web-based and app-based downloader platforms. The platform offers so many advantages to the users.
When you convert YouTube videos into mp4 videos for offline watching, actually, the platform does support multi-format video downloading options. AVI, MP4, MPG, MOV, WEBM and 3GP are some of the popular formats supported by the platform.
The resolution factor is one thing great about the platform. It supports 8 different resolutions depending on the video you choose from YouTube. Starting from 144P and it does support resolution up to 4k.
As VidMeta is a web-based platform, you do not no further need to look for software options as you can easily get your downloads done straight from the website itself.
The platform automatically synchronizes audio and video sources exactly as it is YouTube when downloading Youtube videos.
While most other online YouTube video downloaders provide device limitations, there is no device limitation problem with VidMeta. It supports all the popular devices such as Android, iOS and Windows devices as well.
Importantly, the platform is legal to use. Yes, the downloaded videos from YouTube are legal to watch offline and some videos (if no copyright issues) even can be shared for re-using purposes.
There are no language restrictions on the platform. On the upper right corner of the website, you will find different language options. You can easily switch to your favorite languages, and it does help you download YouTube videos in all the languages supported on the platform.
How to Legally Download YouTube Videos from VidMeta?
As said, it's legal to download YouTube videos from VidMeta. Here are the easy-to-follow instructions on how to legally download YouTube videos online through VidMeta.
First, go to YouTube, look for your favorite videos and copy the link to the video from YouTube itself.
Now, go to this link https://www.vidmeta.net/youtube-downloader
That's the official VidMeta YouTube downloader platform website. On the web page, you can paste the YouTube video URL.
Once the URL is pasted and hit the get video button, the video will be displayed.
Now you can choose the video resolution and format as well.
Once the selection process has finished, you are now ready to click the download button. Just hit the download button and the video will be stored on your device.
That's the entire process and you are legally now downloading your favorite video from YouTube. It's now time to watch the videos you downloaded offline without any limitations or restrictions.
Conclusion
In order to avoid legal issues and protect your device from malware, it is safer to follow legal downloading options than usual downloading options.
Out of all, VidMeta online YouTube video downloader is one of the excellent options to look for.
The platform offers several features, a beginner-friendly interface, and mainly, it's legal and safe to use. By following the steps given in the blog post, you can download YouTube videos legally and safely.