Garena Free Fire has been growing rapidly since its launch. So much so that it won the Best Popular Vote Game in 2019. It was the most downloaded game of 2019 and looking at the game and the exciting events that it offers, it is no wonder why it became so popular amongst gamers.
What Is Free Fire?
Free Fire is everywhere so that you may have heard of it at some point. If you are still not sure about what it is, let us welcome you to a world of excitement. Free Fire is an online multiplayer game with great challenges and excellent characters. In this game, you are on an epic battlefield, and everyone is your opponent. The last man standing wins the game, so you better keep watching your back!
But that is not all. While collecting weapons, gaining skills and eliminating opponents, Free Fire players have events to look forward to for the entire year. The developers plan exciting games throughout the year so that players are not bored, and the gameplay feels brand new at every turn. This is a game that you are not bound to be bored of any time soon!
Get Ready For These Events!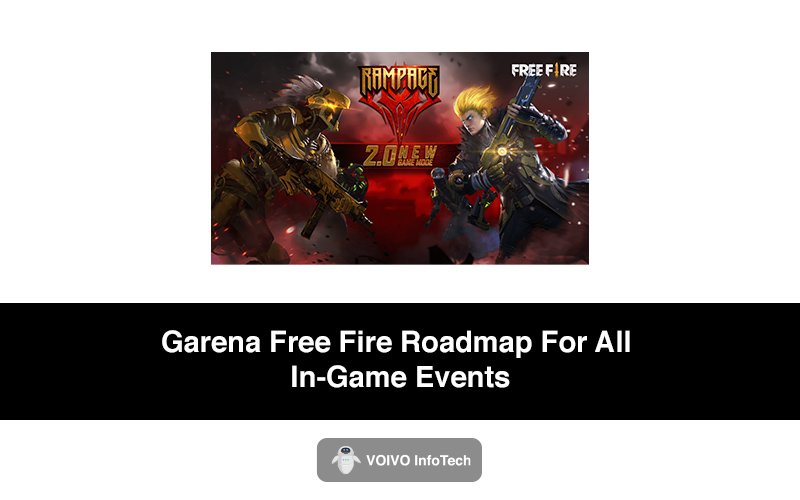 Whether you are a new player or an existing one, the Free Fire events planned for July will get you in the mood to spend a few hours on this game. These events keep you on the edge of your seat and bring back some of the best characters of the game.
The events in July will pit the Bringer and the Liberi against each other in some epic showdowns. It is time to show who is the boss!
Here is everything that you want to know about the upcoming events! It's safe to say that you will have an exciting July ahead of you.
1. Free Fire Rampage Relaunch: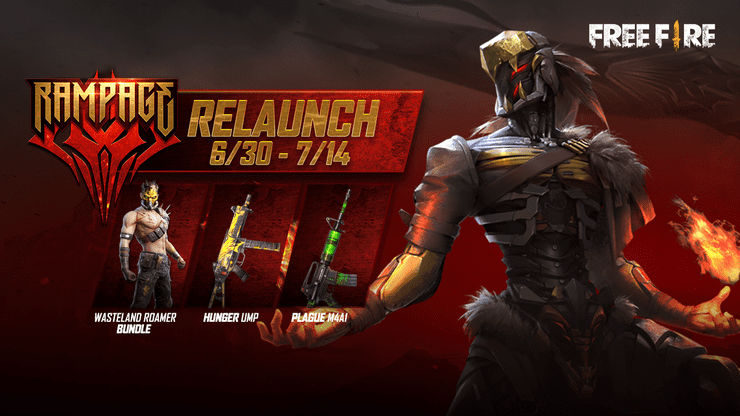 Loved Hunger and Venom? Well, you are in luck as these characters are about to make a return in a fantastic showdown. With this event, players will be able to see these characters' complete warrior suits as well as two new skills, Hunger UMP and Plague M4A1. So, gear up to face new threats and test out your skills once more, are you excited for the new events yet? This event starts on 30th June and lasts till 15th July.
2. Mystic Seeker Weapon Royale:
Starting from 30th June and lasting till 15th July players of Free Fore have the opportunity to play the game and win Mystic Seeker Scar weapons! Collect as much as you can by frequently playing the game, and improve your stash! When you have the best weapons, there is nothing that can stop you from beating the rest! For players who are looking for the perfect weapon to aid them in their quest, the Mystic Seeker Scar maybe your best find yet. Just as the name suggests, when you use this weapon, you become a mysterious killer. What does this mean? Well, these weapons allow killing attack and taking out the enemy without being detected.          
3. Free Fire Elite Pass (Season 26): Rampage II: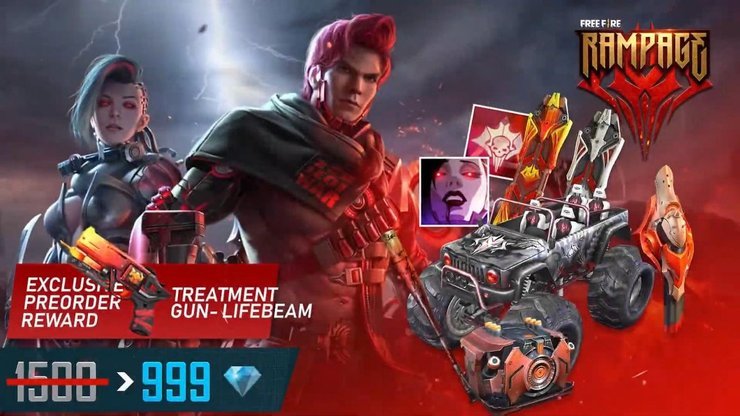 Uprising: for the entire month of July, players will be able to access the Elite Pass. As usual, with the help of the elite pass, players will be able to unlock new skins as well as new characters which they can play with!
4. July Booyah:
For the entire month of July, players will have a chance to collect Booyahs. At every stage, players can receive rewards based on some Booyahs that they collect. The ultimate reward for this event is a Dragon Bandana which will be awarded to those players who are able to collect 100 Booyahs throughout the event! So, make sure you can obtain the most Booyahs and show off your rewards to everyone. Of course, since you have to be able to collect the most Booyahs, it is a competitor to see who gets the most, within the shortest time! Will you be able to beat everyone to reach 100 Booyahs first?
5. Buy 1 and Get 2 Web Event:
This event starts on 3rd July and ends by 9th July! During this event, players have an exciting chance to select any one of the four items in store. Once they buy a single item from the store, they are able to select two more items which they will get for free! If you purchase all of the four items in the store, then you have the chance to collect the entire free items which are available in the prize pool. So, make sure you make the best choice. The Red Spirit Squad bundle is an exciting item, which is available in the free prize pool. Want to know you will get it for sure? Maybe take a look into purchasing all four of the store items!
6. Rampage II Game Mode:
As if Free Fire was not exciting enough, the developers have decided to debut a new game mode from 4th July to 21st July. During this game mode, players from the two teams will get into epic showdowns and battle it out to see who emerges as the victor! It is time to help your team occupy land and drive out the enemy! Collect a unique costume so that you can become the Rampage warrior. Through this new game mode and new costumes, you will be able to enjoy special skills as well. Who can master their skill to make their enemy bow down to them? If you think you have what it takes then make sure that you are prepared to take on other players with this game mode!
 With these exciting updates, you will not want to leave your seat! Stay updated about all events so that you do not miss out on anything exciting. The events which are planned throughout the year bring back the spark of playing this game. The reason why this game seems to be so popular among users is that with every event, the game feels brand new again. Players must constantly improve their skills, or another one will overtake them. There can only be one champion, and it could be you! Don't forget to take part in the July events so that you can ensure that our character has the best sills and items!
Learn more about Free Fire:
Are you a new player, or an existing one with a few questions to ask? We are here to answer them for you! Here are some frequently asked questions that we have answered for you!
Is cheating possible on this game? With any game players my sometimes want to use some unfair means to get ahead. However, if you are an honest player who is sick of seeing others get ahead by using unjust means, then you will be happy to know that Free Fire takes cheating very seriously! Once, a player is found to have been cheating their account is permanently banned from the game! Yes, that is right the player will not be able to access free Fire any longer! They are sure to investigate every player thoroughly, and if anyone is found to have been intentionally cheating, their account gets the snip. This is the reason why they are adamant about not sharing your account information with anyone. If you share your account information and the other person cheats you could lose your account forever!

Will I get banned for cheating even if I have top-ups? Many people believe that spending money on the game prevents them from being banned for cheating. But when it comes to Free Fire, this is not true! You can get banned for cheating no matter what. Hence you should be careful about allowing third-party apps to access this game if you do not want to lose access to your account.

How well does my internet need to be to play this game? You need a relatively stable internet connection to be able to pay this game. Since this is a live game where you attack players and have to seek out your enemies, having a stable internet connection is required. When you do not have a continuous connection with the internet, it can hinder your ability to take out enemies and to make sure that our character is safe.
With your queries satisfied, it is time for you to check out Free Fire if you have not already. If you are an existing player, how excited are you for these new events? So, is it finally time for your character to outshine the rest in the game? Are you going to take advantage of these events to emerge victorious in your friends' group? There seems to be too much excitement to handle! Gear up for the new events, because they are bound to keep you on your toes!