For quite some time, Airplay has been a highlight of Roku products. However, Airplay occasionally has been known to malfunction, particularly on Express Roku. Roku Express looked to be operating smoothly. Up to the day, Airplay decided to slow down and stop functioning completely. It did take some time and extensive research to resolve this problem.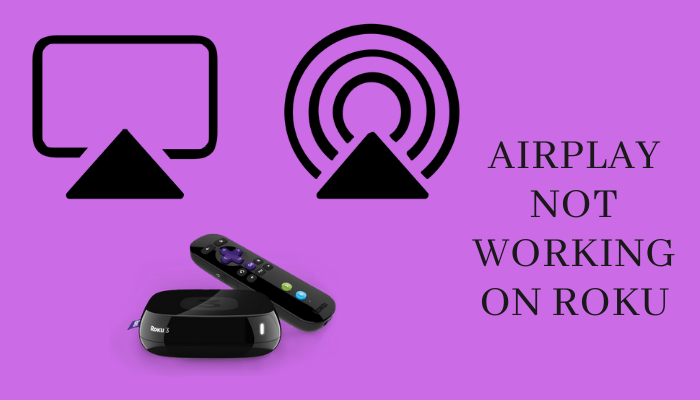 Roku Express airplay troubles can probably be resolved by connecting both devices to the same network. It is also required to be near the Router. Resetting the Roku Express to factory defaults may also be advantageous.
Why Is AirPlay Not Working on Roku?
How can you first tell if AirPlay and Homekit are not functioning on your Roku TV? If you experience any of the following issues when attempting to connect AirPlay to your Roku device, you may argue that your AirPlay is having problems.
Even after playing a video, nothing can be seen on the Roku TV screen because it is dark.

There is no sound; you can only view photos.

Only the sound is audible, but the screen is frozen.

Roku and your AirPlay keep cutting out.

The Roku player is not being detected by your AirPlay.
Verify if AirPlay is supported
There are various issues with your iOS device on Roku, or your internet connection is one of the reasons resulting in AirPlay troubles on Roku. However, most AirPlay issues are transient or connected to the network and may be resolved with a reset or a restart.
Troubleshooting in the case of AirPlay is very simple because it was made easy to use and set up with hardly any issues.
Check if Roku Express Supports Mirroring
Check to see if your Roku Express supports mirroring as soon as possible if you are unable to mirror with help of Airplay or with any other program. Several product generations have been released with considerable improvements over earlier ones. With the Roku Express and Express+ versions, Roku debuted the Express as a part of their 5th generation products in 2015. Mirroring settings were not supported by these models. Mirroring support wasn't introduced until the 7th generation models from 2018—the Roku Express and Express+.
Go to Settings>System>About to see if your device is compatible.
Your Roku Express does support mirroring if it has one of the following model numbers: 3900, 3910, 3930, 3931, 3940, or 3941.
Ways to Fix AirPlay Not Working on Roku TV
Restart Roku
Restarting the Roku device is the quickest way to resolve any issues with AirPlay on Roku. A simple Roku restart might be a helpful fix when software difficulties affect Roku streaming players.
Go to Settings and select Choose System > Click Power, choose System Restart, and then Select Restart, then wait for the device to restart. This procedure could take a short while. When it is finished, you should be able to connect AirPlay to Roku.        
Restart Router
It may also result in internet problems that prohibit AirPlay from being connected to Roku if your internet router or modem has not been reset. If so, you can start your modem or router as shown below:
Disconnect the router from the power outlet and turn it off.

Allow the device to cool down for a minute.

Reconnect the modem to the outlet and turn it on.

Await the device's internet provider authentication.

Connect the router now.

Await the router's startup.

Connect your Apple and Roku device to the internet when the modem has restarted.

Connect AirPlay now, and everything should function properly.
Enable Screen Mirror Before Airplay
You must turn on screen mirroring to use Roku with help of AirPlay. It won't connect to AirPlay and create connectivity problems if you forget to enable the feature. Turn on screencasting to prevent this.
Check That Any AirPlay-Compatible Devices Are On And Within Range
The devices' distance from one another is a frequent cause of AirPlay interruptions. Therefore, make sure that the iPhone and Roku are set close to one another if you're trying to link AirPlay. Additionally, make sure they are sharing the same internet.
Devices Must Run the Most Recent Software
Roku streaming players are programmed to automatically update every 24 hours. But if they don't update, they can have trouble connecting to AirPlay. Similar maintenance is required for Apple products to guarantee smooth operation.
Try using AirPlay once more; it should now function after updating the iOS and Roku devices.   
The object Has to Be Connected to the Same WiFi Network
Checking the WiFi connection is another solution to the AirPlay not running on Roku TV issue. You may check that your Roku and AirPlay devices are connected to the same network by going to Settings > Network > About on your Roku.
You can switch the device to connect to your iPhone device's WiFi network if it currently uses a different connection. After that, you can use AirPlay to mirror your screen.
Reset Roku
Almost every problem with your Roku can be resolved by doing a reset. The drawback is that this will also reset Roku settings. This implies that you must repeat the basic setup procedure and download, install, and activate each program on their device. Read this article on how to reset a Roku device if you're not sure how to accomplish that.
Contact Roku or Apple Support
Finally, you can get in touch with Roku or Apple support if none of the aforementioned fixes, including factory reset, work for you. Excellent customer service departments for Roku and Apple products are accessible round-the-clock by phone or email. Therefore, you can talk to them about your AirPlay problem, and they'll assist you in fixing it.
This blog will be very much helpful for people who are trying to connect their airplay and are not able to do so. You don't need to be tech-savvy to use any of these techniques at home. To find the best solution, contact Roku or Apple support if the issue continues.
FAQs
1. What's the reason I can't screen mirror to Roku Express?
Ensure that the screen mirroring settings on your Roku Express is correct. You can accomplish this by choosing the appropriate option under Settings>Screen Mirroring>Screen Mirroring Mode.
2. What is AirPlay, and how can I use it with a Roku TV?
Open Control Center, hit the AirPlay symbol on your phone, and then choose your Roku TV to AirPlay from your iPhone to a compatible TV. Enter the AirPlay code that displays on your TV if required. Similar steps can be taken to AirPlay from a Mac to a TV.