Whether you are playing Minecraft for the first time or the tenth time, it is important to pay attention to your spawn location. After all, it's the most important aspect of the game. Your spawn location can have a big influence on your gameplay.
Choosing the right spawn can help you collect resources that are needed for you to move forward in the game. But if you choose the wrong seed, you might not even survive.
If you are looking for Minecraft seeds for PS4, you are in the right place. In this article, we will suggest you some of the best seeds that are worth trying.
Here you go with the list:
1. Mansion Livin
Located next to a large mansion, it allows you to start your game in style. Moving towards the southeast you will find the mansion perched atop a hill. It has many storage chambers with trunks containing magical books, diamond tools, and much more.
Seed: 795133914748637939
2. Winter Wonderland
This seed will land you in a huge ice spike biome. There's a lava waterfall, but surprisingly it doesn't melt the ice. Near the biome, you will notice large cliffs that give you access to the perfect mining area.
Seed: -5224560797713362021
3. Desert Utopia
After spawning in this location, go towards the west to find a large desert settlement and temple. Explore the town and the trunks that are filled with treasures. You will find all the necessities near the temple.
Seed: 8291939573464379173
4. Watered Down
This is one of the best seeds for PS4 players. The entire planet revolves around a group of islands. The spawn has two ocean monuments that can be explored to its core. You should also check out the structures under the water.
Seed: 1408425816
5. Temple and Ravine at spawn
This seed will take you near a temple that offers rewards. Moving away from the temple, you will notice a ravine in the middle of the desert area. You need to be careful as the ravine is not safe. However, exploring the place can help you find valuable items such as ores. There's also a village where you can find additional supplies.
Seed: 194699705
6. Jungle Trek
If you want a jungle experience in the game, this seed would be the best for you. This spawn includes multiple biomes, each with varying specialties. The most notable one is the hybrid biome with dual settlements. Every settlement has a library, a church, and a blacksmith.
Seed: 7891805400352639544
7. Templed
This is an excellent seed for PS4 players. The spawn location is close to a water temple and a village. You can explore your surroundings and loot whatever you find in your way. It's an exciting seed for adventure lovers.
Seed: -5666551529492867
8. Group Together!
This is a unique seed containing several different biomes, all grouped. It includes a jungle biome, a snow biome, and more. Around your spawn location, you will notice a strange hold that looks like a meteor crater. The hole is home to the villagers and diverse animal species.
Seed: -126880078651571709
9. Mooshroomin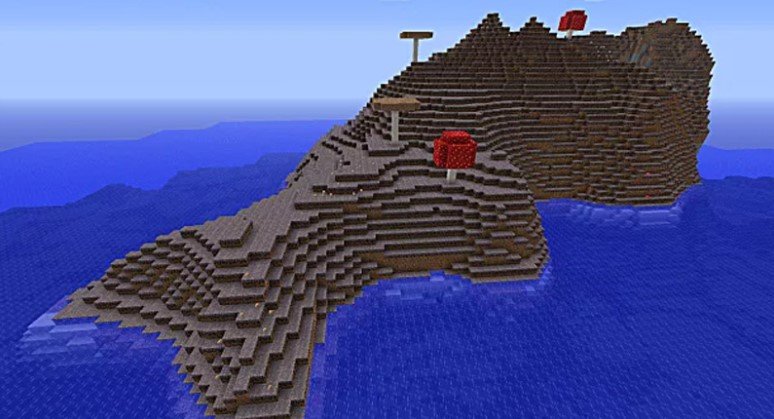 If you prefer a water-based spawning location, Mooshroomin would be best for you. There is not one but two islands. You can explore both the islands and expand one or both of them. You can also opt for an underwater adventure.
Seed: 1665740673014927767
10. Rare Stronghold
This seed is best for players who like speed runs in the game. You can reach the fortress by entering through the cave. This spawn location offers a variety of useful items such as libraries. The five Ender eyes make your journey to Endermen a little easier.
Seed: 284175251
11. Village Ruins
Choosing this seed will put you near a solitary location where you will find a blacksmith in the center. The area is surrounded by forest biomes such as roofed, mega, birch, and taiga. Upon reaching the village, you will notice a plateau near the blacksmith's area. You can start building here as it offers a strong towering base.
Seed: -198441644
12. Bogged Down Blacksmiths
This is a decent spawn location, where exists three communities. Two of those communities consist of blacksmiths. You will also find an ocean monument that divides the two communities. The good thing is that all the areas are close to your spawn location.
Seed: 2065
13. Survival Island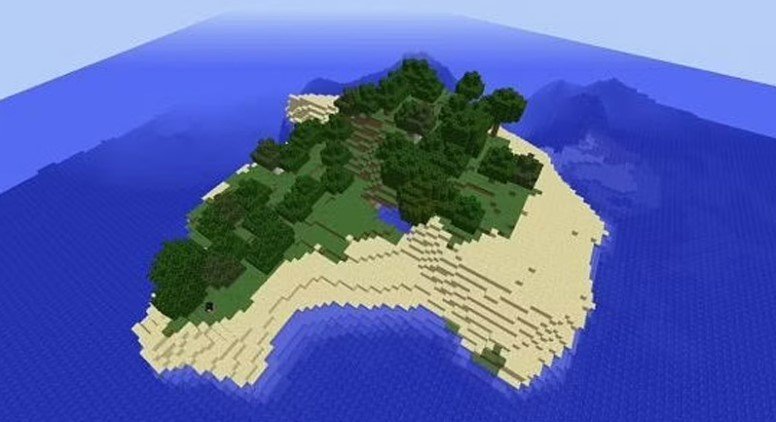 Survival island spawn is a top favorite as it helps players to meet their castaway fantasies. If you are ready for a survival challenge, this seed is for you. It will put you on a small island where you need to collect equipment. Walking opposite side of the island will take you to a monument where you will find a large number of resources.
Seed: 2109231493
14. Village Cluster
If you are looking for a basic spawn location, the village cluster seed would be a good choice. The starting area has a settlement of blacksmiths. Apart from that there are four other communities. This seed is best for beginners. Plus, you can loot all you want.
Seed: -1207312994794689339
15. Mesa Biome and Village at spawn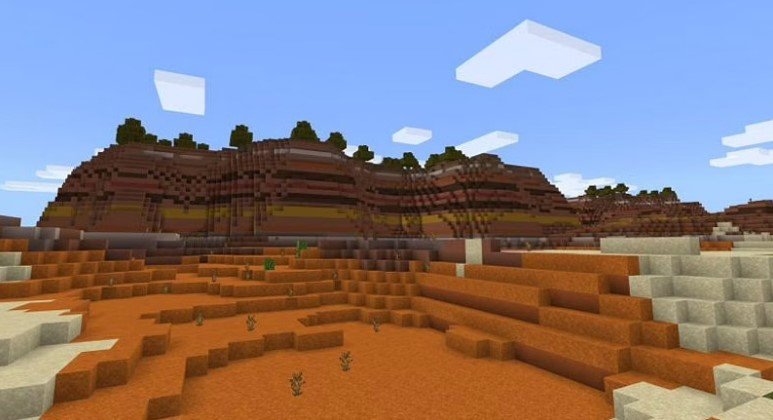 This is a very important seed that allows you to spawn near a settlement. You can collect iron swords and armor at the blacksmiths. Moving away from the village, you will come across a variety of biomes including mesa and woodland. If you move a little ahead, you will notice a cluster of gems.
Seed: 2109369554
16. Island Ahoy!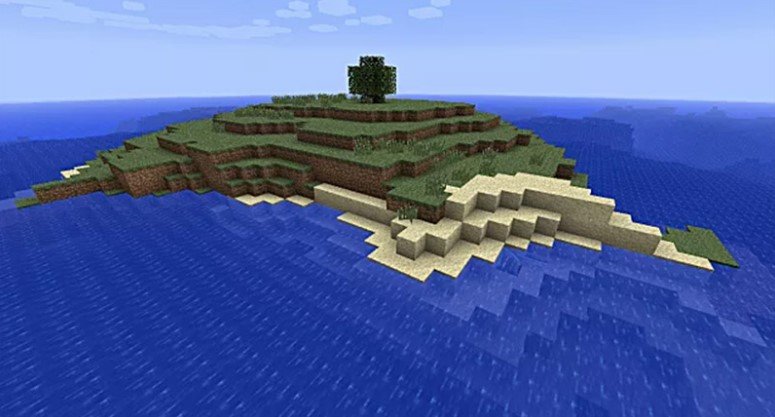 This seed is a challenging one, so it might take you some time to get used to it. But it's a rewarding seed. You will start your journey on an island. On the opposite end of the island, there's a monument where sugar cane is grown. You must take advantage of this monument.
Seed: -2109231493
17. Island Adventure
This seed will place you on a small island, surrounded by other small islands. To build your home, you will have to reach the mainland where you will find all the required resources. If you would like a survival challenge and a little adventure, this seed would be good for you.
Seed: 2090846439
18. The Giant Chicken Mansion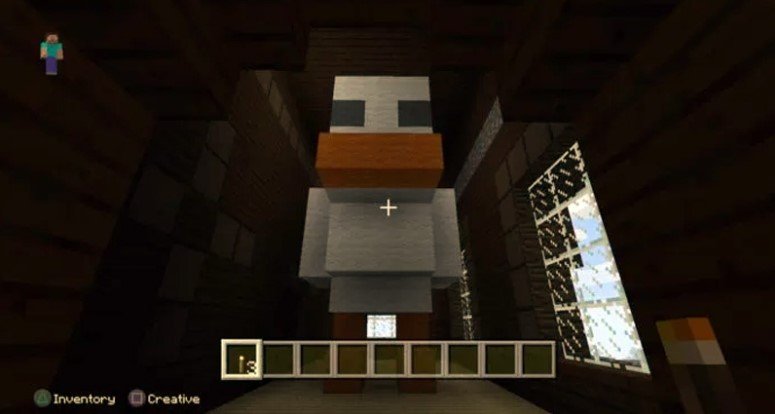 This location is right next to your spawn. This huge mansion comes with a few quirks. Besides the lava lamp, you will also find a tall chicken statue. You will also find sculptures of other animals in the mansion, but the chicken one is the most notable of them all.
Seed: -1904495976270803387
19. Water Temple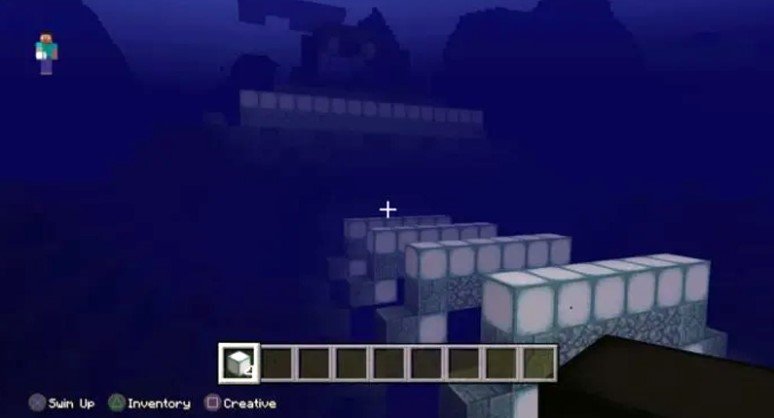 After spawning, you should move towards the lower left corner of the map where you will come across the spikey cliffs. Near this location, you will find a big water temple. You can explore the temple, but be careful of the guardians.
Seed: -8290380977101954710
20. The Flatlands
What we like about this seed is that it will place you in between different flat biomes. It's the perfect location to fuel your creativity. It's a simple world, but it is worth it. If you want a basic seed, choose this one.
Seed: -782259792648243307
21. Mountain Town
This town is located at the bottom of a mountain. It is exactly north of your spawn location. It's the perfect location to set up a camp. There are several wooden structures near cobblestone towers. Other than that you will also find a snowy lakeside town towards the south.
Seed: -8618223263869682290
22. The Prince and The Pauper
Moving east of your spawning location will help you reach a small village, which is located beside a tall mansion. It's an ideal location to set up a camp. The good thing is that you decide where you want to camp, a village or a mansion. Having both locations close to one another is a big advantage. It will help you to build some fun things.
Seed: -2721101494169992091
23. Irrigation Nation
After spawning move 10 steps to your left to find a farming town featuring an irrigated water system. The town is surrounded by different biome, including a lava pool. This seed is best for players seeking adventure. Plus, you will have all the required resources close to your location.
Seed: 4005952010697147452
24. Buildings Galore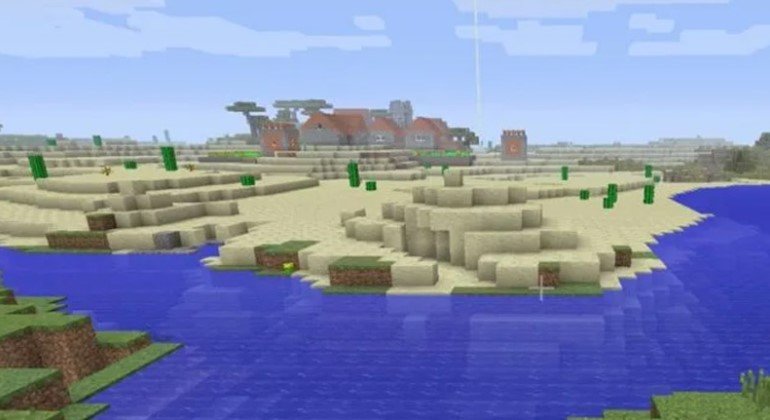 This seed features a large number of buildings, meaning you will need plenty of time to explore them all. Right in your spawn location, there's a desert village. There's another village right behind the mansion. Going towards the east of the mansion will take you to an even bigger mansion. So basically, this seed offers you two villages to explore.
Seed: 403623455055464254
25. Hidden Valley Desert Temple
After spawning in the forest area, move right and you will come across a desert biome situated between mountains. If you access that location, you will find a hidden temple. You can go down into the temple to explore it, but you need to be careful.
Seed: -9117400178834551815
Final Words
Minecraft has a large number of seeds for PS4 players. You should try out all these seeds for a great experience in the game. We have included all types of seeds to suit the unique needs of players.