Today almost everyone knows about Snapchat. It is a popular app among the young generations. The app opens right to the camera so that you can take a snap and send your favourite moments instantly to your friends. Snapchat allows you to take a Snap or video and send it among your set of best friends in seconds. It allows you to express yourself to your close ones. Snapchat comes up with features like filters, Bitmojis, lenses, stickers, and various fun effects. Snapchat users can select contacts and send their stories privately to their friends or they also have the option to share semi-public Story or public Story which is called "Our Story".
Snapchat is an American multimedia messaging app. It is developed by Snap Inc., originally was known as Snapchat Inc. One of the features of Snapchat is that the uploaded pictures and messages are available for a short period, then they became inaccessible to their recipients. Evan Spiegel, Reggie Brown, and Bobby Murphy were former students of Sandford University. As per the data collected in December 2020 Snapchat had 265 million daily active users, and more than 4 billion Snaps are sent per day on an average. Snapchat is popular among youngsters, particularly those who are below 16. It's a prime privacy concern for parents.
Overview of the app Snapchat
As mentioned above Snapchat is mainstream multimedia messing app. The app is used globally. Apart from sending your favourite photos and videos, you can also share 24-hour stories. with your friends. You can limit your views as per your choice. Snapchat lets you enhance your stories by offering abundant filters. Apart from using a plethora of filters and uploading, sending, and receiving photos and videos Snapchat also offers you games and various fun filters on the app.
The app provides you with a lot of features. They are
Snap
Snapchat

opens to the cameras. Tap to click photos and for taking videos

press and hold




Add

Filters or Lens to your photos. Add new photos every day. Change

your look with 3D Bitmoji




Create

your personalized filter to add to your photos and videos
Chat
Chat

with friends with live messaging, you can also share your day with

Group Stories




Video

chat with your gang of a maximum of 16 friends at the same time.




You

can also use a filter while on a video chat
Discover
Follow

friends to watch their Stories




Watch

news and original shows
Snap Map
See

your friends location if they have shared their location with you




Share

your location with your best friend




Watch

live stories from nearby Community or across the world
Memories
Look

back on Throwback snaps you have saved with cloud storage




Create

your own stories from your favourite memories




Save

your old Snaps in your Camera Roll or share with friends
Friendship profile
Every

friendship has its profile to see the moments both of you have saved

together




Discover

the things you have in common with your special friend. See your

compatibility, Bitmoji's fashion sense, and other aspects
How to use Snapchat on PC?
Snapchat is a fun app on smartphones, but accessing the fun app on a big screen of a PC would double your interest in accessing it. Officially Snapchat for PC is not available. However, the fact doesn't restrict you from accessing Snapchat on PC. There are other modes of using Snapchat on PC.
Unlike other social media platforms, no Snapchat.com viewer would let you see your feed nor there any Snapchat app for windows 10. Mac users also don't have the privilege to access Snapchat on a computer. Hence your only option is the Android emulator BlueStacks, AndyOS is a free android emulator among which AndyOS works on both Windows and Mac.
Steps of getting Snapchat on PC
Below are the steps which you can follow to access Snapchat from your PC.
1. Download the Bluestack in your preferred web browser from the BlueStack website. Download the Bluestack 4 version which is the most updated version. If you have any problem in downloading Bluestack3 or 4 downloads an older version of Bluestack that is Bluestack 2.
2. Select Download the Bluestack to download the Bluestack installer. Double click on the executable file or .exe file. It will ask for your permission, Select Yes.
3. An installation window will appear after that. Select the light blue coloured Install now and wait for the download to complete.
4. Once the installation is complete Bluestack will open automatically. Double-click on Google store to open the app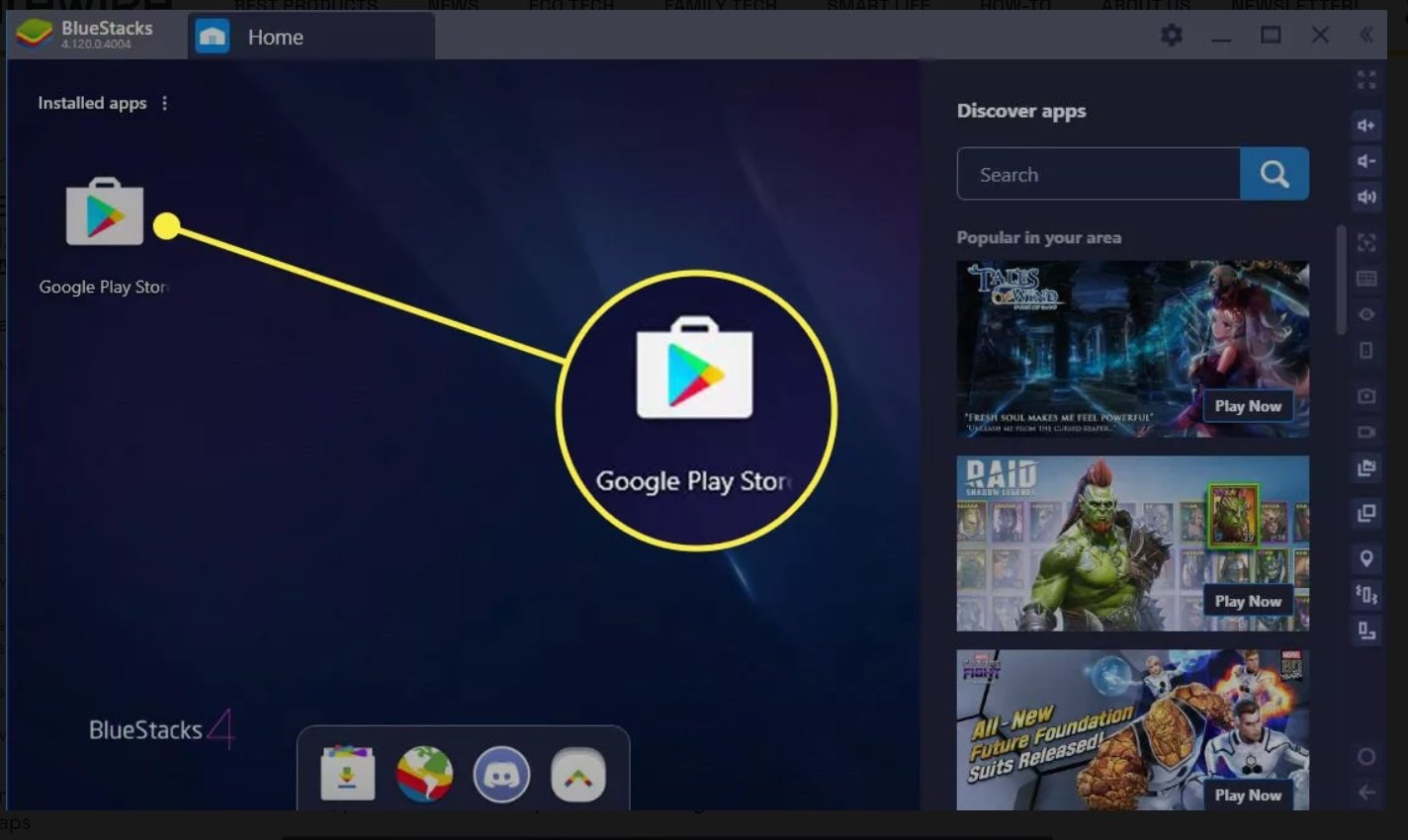 5. Click on sign in and sign in with your Google account by entering your Gmail and password in the given field.
After signing in you will be directed to the google play store. On the search field present on the top of the play store type Snapchat and hit the enter key.
6. The official Snapchat will appear. To install the app select install
7. After the installation is done, select Open to open Snapchat
8. Snapchat will now open in a new tab looking similar to the mobile app. Click on login to enter your account using your Snapchat username and password.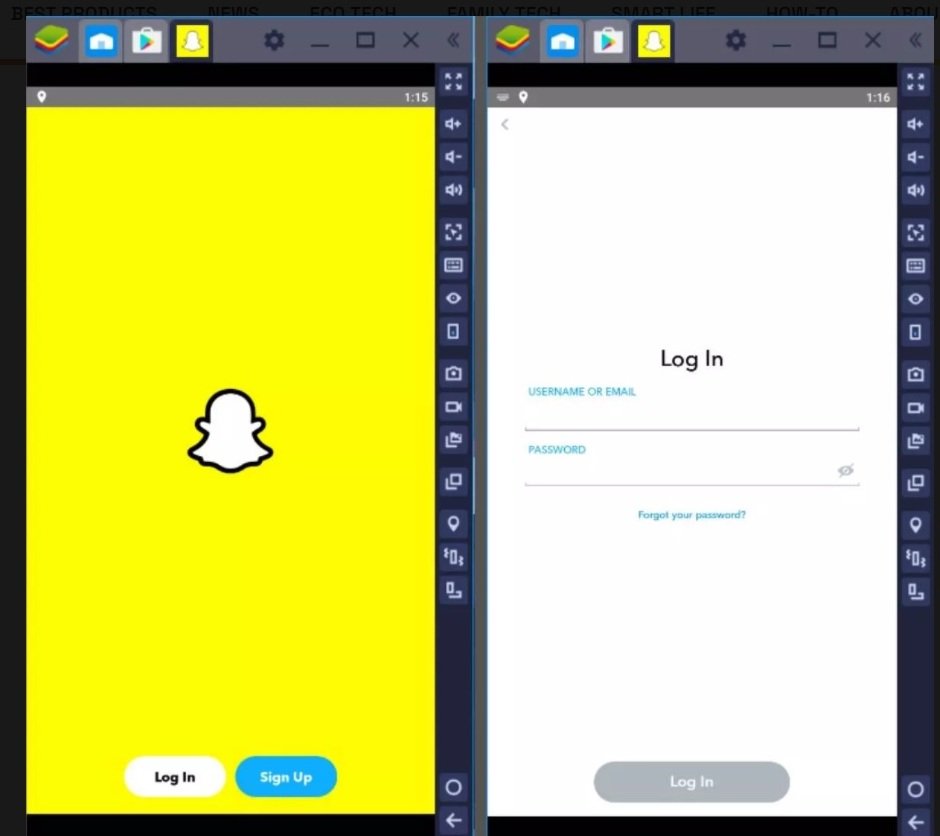 Is Bluestack good for Windows and Mac and Google?
The app is developed considering the current operating systems to reach the maximum audience. It's designed to work on Windows and macOS. Nevertheless, the majority of users are on Windows so they prioritize implementing updates for Windows. Mac users are also on their list and they will eventually receive the features of the Windows version.
Coming to Google Bluestack is very faithful to the source material. So, when you link your google, account installing new games, or even troubleshooting issues is solved easily just like you use your phone
Is Bluestack safe to use?
BlueStacks take the security platform very seriously. So, malware, spyware, or any kind of additional software having malicious content is never found on Bluestack. As per Bluestack, they offer their users a transparent interface. Their official website doesn't contain any malicious programs. However, they don't guarantee the safety of their emulator if it is being downloaded from other websites. So, Bluestack recommends downloading the app from their official website to avoid any kind of malware
2 emulators to get Snapchat on PC without Bluestacks
Other than Bluestacks there are also other emulators which will help you to access Snapchat from your PC.
NOX App player
Nox App Player is also one of the good emulators to get Snapchat run on PC. Nox App Player has its built-in play store for you to download the Snapchat and you can avoid downloading it separately.
Features of Nox App Player
This emulator is user-friendly and has a bunch of amazing features. Let's have a glance at the features
Friendly

with Windows as well as macOS




Steady

emulator with very few crashes




Provides

you with numerous controller maintenance for joysticks and sketch

boards




Support

all the latest apps available on Android




Notifies

with regular updates to run the system smoothly
How to get Nox App Player
Head

to the official website of Nox App Player




Download

the on your Windows OS




How

to use the App




After

downloading the App open it




Go

to its homepage, select play store, and sign in




In

the play store search Snapchat and select install




When

Snapchat is installed sign in.
KO Player
KOPlayer is another emulator for Android to run Snapchat. KOPlayer runs resource intensive applications and games on Windows PC.
Features of KOPlayer
It

allows smooth speed on the PC




Streamlined

control over keyboard mapping




Downloadable

contents are free to play




Gameplays

can be recorded and shared




Friendly

user interface
How to get KOPlayer
Download

KOPlayer emulator from the official website




Install

the app.
Conclusion
Snapchat is available on Google Play store on your mobile device. An Android emulator is always needed to access Snapchat from your PC. Snapping from a PC will be more fun for you as you will snap from a bigger screen. The app has amazing filters, which you can on reel videos of other social media. Snapchat is not confined to snapping, now you can do a lot of various activities by accessing Snapchat over PC. Various 3D mini-games can be played on Snapchat. It also restricts you from using third-party apps. It is a clean app and no malicious is welcomed Snapchat. Snapchat has a very simple user interface so that everyone can use the apps.
Now that you know the procedure of accessing Snapchat over PC it will be easy for you to use the app whenever you are on PC. You don't have to watch phones for any notifications.
You can see them on the Snapchat tab you will be opening.
FAQs
1. Is Snapchat free on PC?
Yes Snapchat is completely free for PC
2. Can we use Snapchat on the Computer without the app?
Yes Snapchat can be used on PC without the mobile app
3. Can Snapchat be used on Chrome?
No, as there is no desktop option available Snapchat isn't possible on Chrome.