If you are reading this article, there is a possibility that you are looking for Borderlands 3 shift codes for your console. 
If that is the case, then you are in the right place. In this article, we are going to cover every important detail that you need to know about Borderlands 3 shift codes.
What are Borderlands 3 Shift Codes?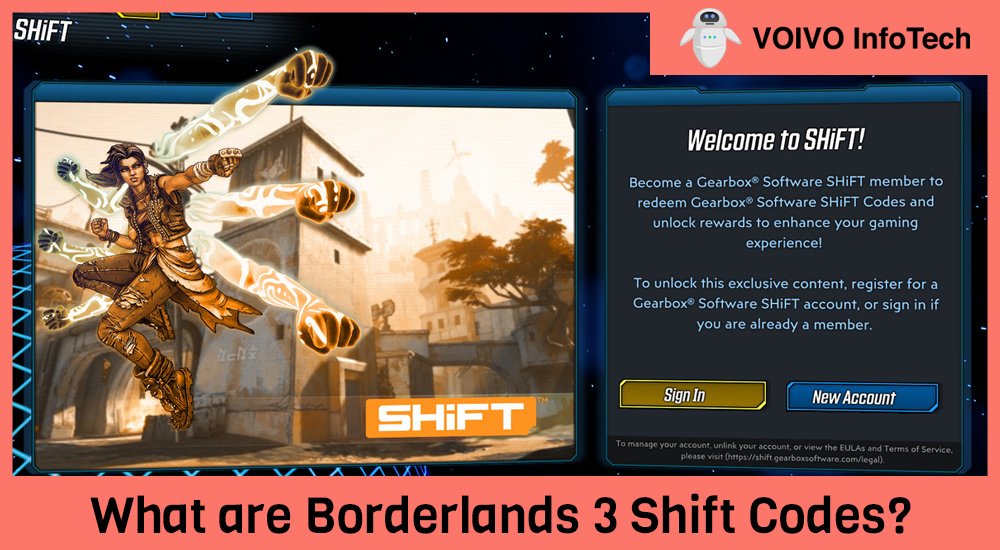 Those who haven't played Borderlands 3 may not know what shift codes are. So before we start, let's first clear the basics.
Shift codes are unique 25 digit codes that are released by the developers i.e. Gearbox. These codes are like the combination of loot boxes and promo codes. Gearbox rolls out these codes during promo events. You can redeem these codes for golden keys which can then be redeemed to get special chests in the sanctuary.
With the help of these shift codes, you can redeem various items like weapons and cosmetic stuff. It takes just one code to redeem up to eight keys. The fact that these codes are available for free, you should use them.
If you search harder, you will find permanent Borderlands 3 shift codes. Unlike the temporary one, these codes will not expire. This means you can redeem them whenever you want.
Temporary shift codes come with expiry dates. They stay valid only for a month or week from the time they are released. If you fail to use them within the given time, it will become invalid.
What are Golden Keys?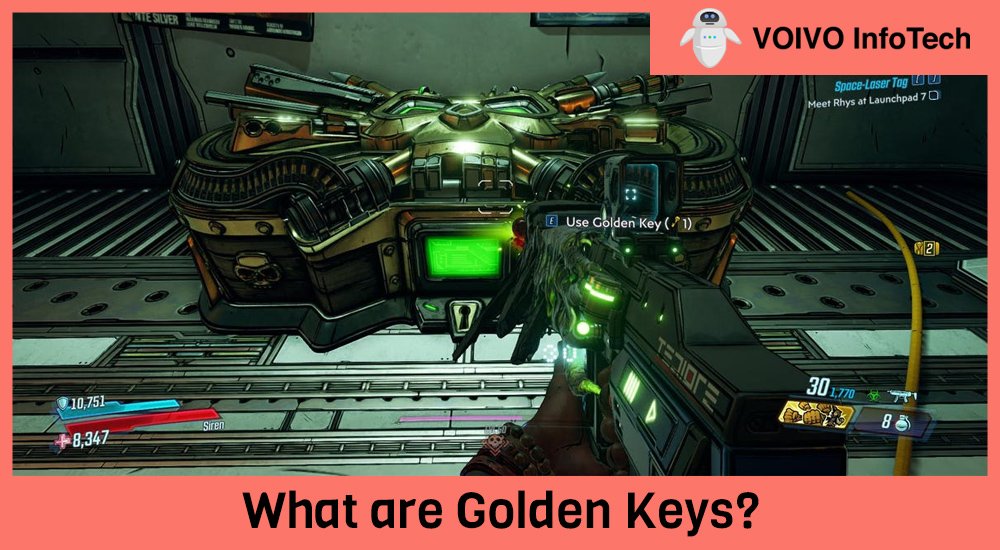 As you already know golden keys are redeemed with the use of shift codes. But the question is what exactly golden keys are or what they do?
Golden keys are used to open the golden chest in the game. These keys look like gold skeleton keys.
The golden chest can be found in the spaceship sanctuary which serves as a hub town in the game. Players look for the golden chest because it is special and provides better loot than normal loot boxes.
In loot quality in the golden chest is of the purple (rare) tier which comes second to the legendary tier. There is always a slim chance that you will get legendary items in the golden chest.
Getting golden keys is very important as they give you access to great loot. You can redeem your golden keys using your shift codes.
How to get golden keys for Borderlands 3?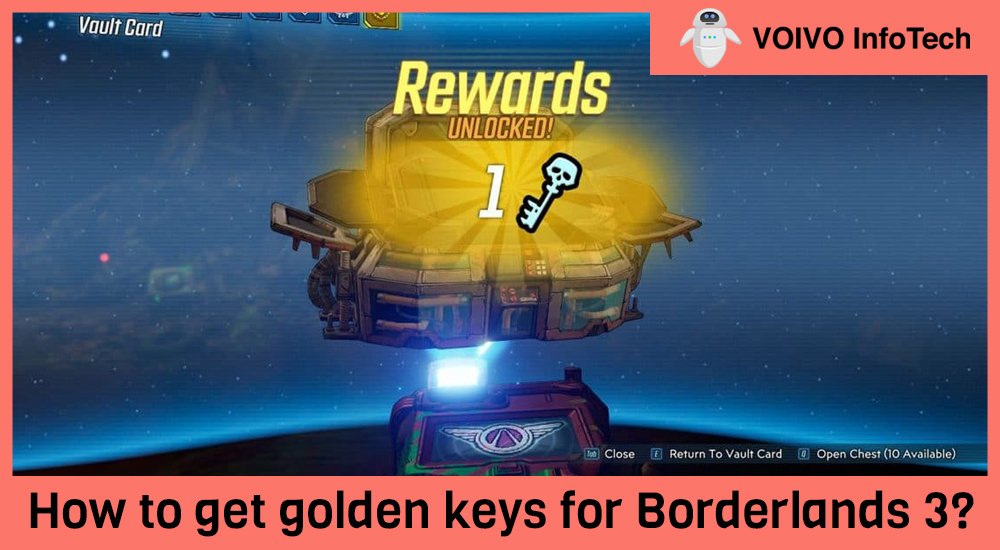 Many of you are still confused and don't know how to get golden keys. Obtaining golden keys is very simple. You just have to use your shift codes to redeem golden keys. As far as shift codes are concerned, it is provided by Gearbox during promo events. 
These codes are also rolled out by Borderlands Channel or Randy Pitchford on social media. They can also be available during the Borderlands Show. If you need golden keys, you need to look out for these events.
You should follow an active community member to keep a check on the release of the shift codes. This way you will not miss out on the shift codes and will be able to use them within the expiry date as well.
How to use golden keys?
Now that you know how to get golden keys, let's get to know how to use them. Once you redeem your shift code, the golden key will be sent to you in your in-game mailbox. All you have to do is open your mailbox from the social menu and then click on the envelope tab.
Now you can collect all your golden keys and all the other rewards that you have received from this menu. Once you claim your golden key, you can go to a traveling sanctuary 3 to find the golden chest.
The chest is placed on the upper deck. Start from the Fast Travel Point and walk past the Quick Change Station and then go to the Lost Loot Machine. From there take a right and you will find the golden chest in front of you.
The golden chest provides you with rare items that you will need in the game. If you are lucky, then you may also get legendary items in the chest. Once you open the chest, you can see the items you have got.
Permanent Borderlands 3 Shift codes
9XCBT-WBXFR-5TRWJ-JJJ33-TX53Z – Gives you 1 Golden Key
HXKBT-XJ6FR-WBRKJ-J3TTB-RSBHR – Gives you 1 Golden Key
ZFKJ3-TT6FF-KTFKT-T3JJT-JWX36 – Gives you 1 Golden Key
ZRWBJ-ST6XR-CBFKT-JT3J3-FRXJ5 – Gives you 1 Golden Key
Z65B3-JCXX6-5JXW3-3B33J-9SWT6 – Gives you 1 Golden Key
ZFKJ3-TT3BB-JTBJT-T3JJT-JWX9H – Gives you 3 Golden Keys
Finding Shift Codes for PC or PS4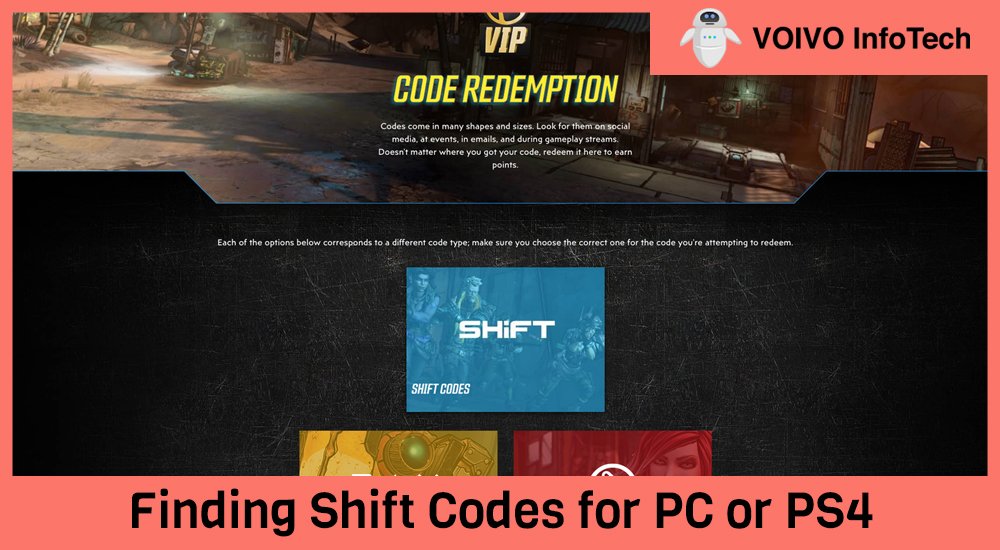 As a Borderlands 3 player, you should not miss out on shift codes. Otherwise, you will miss out on free items.
If you are looking for the latest PS4 Borderlands 3 Shift codes, then you should look for them on Twitter. This is the platform where these codes are usually released. 
You should follow Randy Pitchford @DuvalMagic or @dgSHiFTCodes as they roll out free shift codes. These codes can also be available on the website.
Borderlands 3 Shift Codes for 2023
5TC3B-J65TW-53R3S-JJ3JT-K6TFC – Gives you 5 Golden Keys – Expires on 03:59 UTC 28 July 2020
WWCTT-WCK5R-RH36T-BBT33-SHCCR – Gives you 5 Golden Keys – Expires on 05:00 UTC 20 July 2020
CJCTJ-K65J5-KJ63S-33TJB-KRX35 – Gives you 5 Golden Keys – Expires on 05:00 UTC 27 July 2020 
K5KBB-3CK5X-X9JFT-TTTBT-5WHFK – Gives you 5 Golden Keys – Expires on 05:00 UTC 20 July 2020
How to redeem Borderlands 3 Shift Codes on Xbox, PS4, or PC?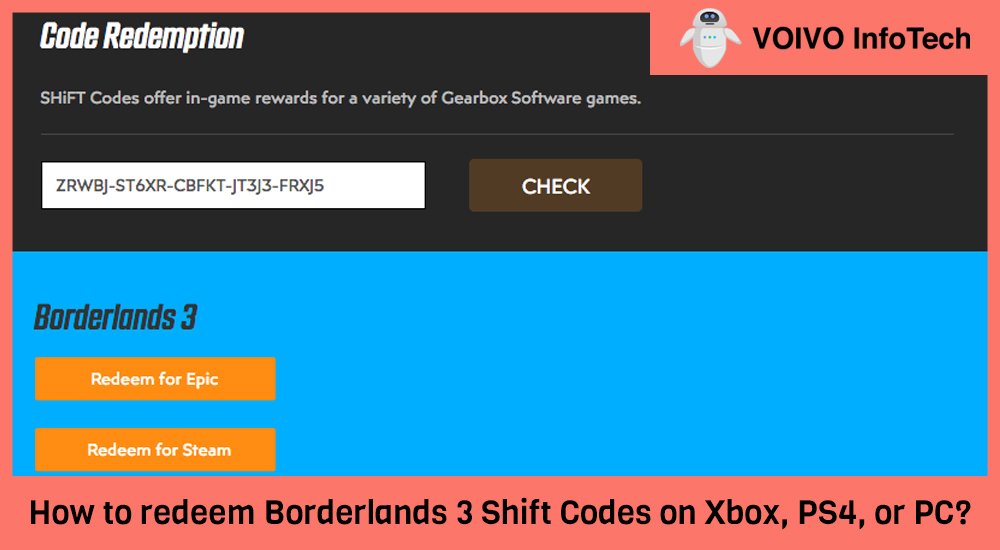 Now that you know about shift codes, it's time we discuss redeeming them. For those who are new to the game, they may not know the process to redeem the shift codes. Well, the steps are simple and it hardly takes any time to complete it. To help you out, we have covered the steps in this section. Go through the pointers and you will know what to do.
The first thing you need to do is go to the Shift Website.

Next, log in to your Shift account. For those who don't have an account yet, create a new one.
Now choose the platform that you are playing on.

You need to go to the Shifty code redemption page. This is where you will be asked to enter the Borderlands 3 shift code. After you type in the code correctly, it will be redeemed.

Once you redeem your code, you can see the things it has unlocked.
Expired Borderlands 3 Shift Codes
CS53B – FBS9J – 95TK5 – BJTT3 – KJKTJ
CTWJB – H5HSW – R96RS – 5R3BB – H33K5
KJCTJ – F9RZH – X3WS5 – ZTWB3 – BZR6J
C3CJ3 – TRSZC – FHXX9 – WRTTT – CJ56H
5JWBT – FT9ZZ – FBC95 – 935JT – RTFRR
C3KJB – 3H9HZ – 63KZW – 9BKJB – WZRCR
C3C3B – BB9SS – FTKHK – ZTWTB – 99CRX
CB53B – WJTTJ – HJCZC – HBK3T – F3RX5
K9W3T – BJZ59 – B9SHB – 6B3JT – T9CFF
WBC3T – 5JH99 – XTWZ5 – 9BKB3 – BT63Z
K3WBT – B5ZHZ – 63CZC – S35JT – F3FT6
5BCBB – 5SRS9 – RTW9C – 9JCJB – XK3X9
CSKT3 – 6F9HB – ZWJC5 – BTBT3 – JJFXC
CZWJJ – X6XHJ – 9CJC5 – JTT3J – WZ6WC
Others Ways You Can Try:
There are two other ways to redeem the shift codes. The details are given below.
You will find the option 'Redeem Code' under 'Shift' in the main menu. You need to use the Shift tile to type-in the shift codes. For this, you need to go to the official Borderlands website.
If you pause the game while playing, you can find the Shift tab in the social menu. Click on the shift-tab and enter the shift code to redeem it.
Note: If you choose to redeem your code through the Borderlands website, you should be careful. The site may have some issues which may prevent you from redeeming your code. This is why you are recommended to use the shift website as it is more suitable.
For those who don't know Borderlands 3 shift codes are universal. This means a single code can work on all the platforms. This also means that you don't need separate shift codes for your PC, PS4, or Xbox. All you have to do is redeem a shift code and then select the platform that you want to play Borderlands 3 on.
Shift Code Not Working: What To Do?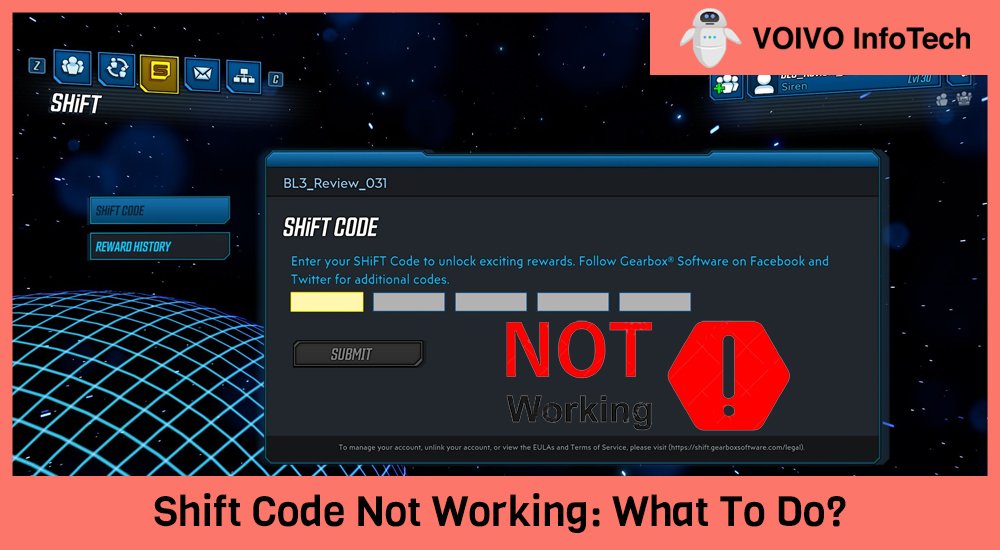 There are two types of shift codes, one is permanent and the second is temporary. The temporary ones come with an expiry date. Once the expiry date is over, the shift code becomes invalid. In other words, it will not work anymore.
But sometimes shift codes may not work even when they are not expired. This may happen because of various reasons. It could be because the shift code is buggy. It may also happen if there is a problem with the Shift Code or Borderlands site. In this case, you can still redeem the code in the game.
There is always a chance that an individual code may have issues with your account. Sometimes golden keys don't show up in your inventory. But all these problems are not regular. It is mostly a one-time thing.
In case, you are facing such issues often, you must look into the knowledge base for a solution. You can also submit a support ticket with 2K Games. Make sure that you describe the issues clearly and they will help you resolve them.
FAQs
1. What do you get after redeeming shift codes?
By redeeming your shift codes, you will get golden keys, weapons, and other rewards in the game.
2. Where can you find the golden chest?
The golden chest is located in the sanctuary where it is placed on the upper deck. The chest contains rare items. But lucky ones can also get legendary items.
3. Are all shift codes temporary?
You can also find permanent shift codes. Unlike temporary shift codes, these don't have an expiry date.
Borderlands 3 shift codes are unique codes that give you weapons and other valuable items in the game. These codes are available for free and are rolled out by the developers themselves. Make sure you collect as many shift codes as you can. This will give you access to golden keys and other rewards.